Day Nine – also known as August 19th to those not "on the bus" – sees us still in Kansas City, hoping to make up for leaving last night's game (which, with the rain delay, went to 2:16 a.m. today) early.  Click here for Day 8 details.
This proved to be a very good day, starting with a 10:00 a.m. cab ride to 18th and Vine – and visits to the Negro Leagues Baseball Museum and the American Jazz Museum ($10 admission for each museum, $15 if you visit them both. Less if you, like me, are over 65.)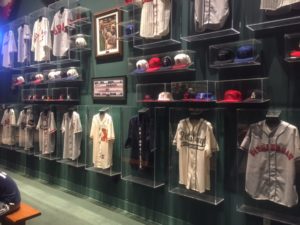 If you are a baseball fan, you can't afford to miss the Negro Leagues Museum, which gives you a look at some of the richest – and some of the most poignant – times of our baseball history. Located in the 18th and Vine district, the museum takes you through the history of the Negro Leagues – and individuals of color –  across baseball history.  The story is told with a wide range of films, audio visual exhibits, photographs and memorabilia of all kinds. It is indeed a history lesson. You'll learn a lot not just about baseball, but also about American history, race relations and attitudes.
While the museum includes exhibits honoring Negro League greats, its centerpiece is the Field of Legends – a museum-sized baseball field manned by nearly life-sized bronze statues of key figures from the Negro Leagues' history.
There is so much here – honoring players and teams – that it is impossible to do it justice in the space of this blog.  My recommendation, take the time to take this trip through a very important part of both the past and future of our national game.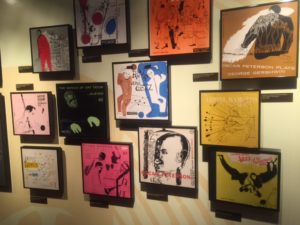 From the Negro Leagues Museum, we made our way to the American Jazz museum (housed in the same building) – where we were able to get and eyeful and earful of the greats from this unique American music genre. The museum included plenty of listening stations to enjoy the greats (and even separate the music into the parts that make up the whole) and visual impressions of the history of jazz (from photographs and films of jazz greats to album cover art to jazz club neon). If you are a fan of jazz, this visit is a must.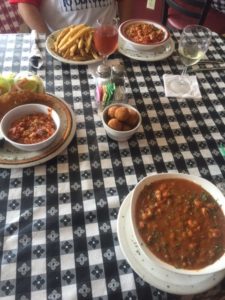 After our museum visit, we took the advice of the locals and headed to Danny's Big Easy – practically across the street from the museums – for Cajun food.  There were four of us in our group and the reaction was unanimous – WOW!  Great, and we really mean great, Cajun food; as well as a server whose "life is a party and you are all invited" attitude made the experience even more enjoyable. Among the items we had: Crawfish Etouffee; Jambalaya; Catfish Po' Boy; mac 'n cheese; wings; specially seasoned house fries; and hush puppies.  We washed it down with wine, but when one of our group asked about a beverage called "Living Easy," they brought us a free one with four straws.  (Also of interest was the fact that they had Kool-Aid on the menu for three dollars.)
We were at Danny's Big Easy for lunch, but in the evening, the bar/restaurant features a variety of entertainment – Blues, Zydeco, Jazz, R&B, Funk, Reggae, Salsa and more.  We were wishing we didn't have a ball game tonight; we could have spent the evening at Danny's.  Five stars, without a doubt.
Later, I learned that other tour participants took in such attractions as the Kemper Museum of Contemporary Art (just about a block from the hotel) and the National World War I Museum (2 1/2  miles away, but within range of the hotel's shuttle service). In addition, small groups took advantage of both the Westport and Country Club Plaza area shopping and dining opportunities.
And then, there was the game.  I've already touched upon Kauffman Stadium (see Day Eight, here). Let me just say that tonight was a great night for baseball – clear skies, temperatures in the 70's and seats in right field near the fountains.
After two innings, it looked like a pretty good game, with the Royals' Ian Kennedy and the Twins' Hector Santiago locked in a 0-0 duel.  In the bottom of the third, however, the Royals turned three doubles (SS Alcides Escobar, 3B Cheslor Cuthberth and LF Lorenzo Cain) and a single (2B Christian Cuthbert) into three runs – and the rout was on. The Royals held the Twins scoreless (Kennedy went eight innings and gave up just four hits and no walks, while fanning six), while tacking on one run in the fourth, four in the fifth, one in the sixgth and one in the seventh.  The final: Twins – no runs on four hits and no errors; Royals – 10 runs on 17 hits and no errors.  Of the Royals' 17 safeties, nine were for extra bases: six doubles and three home runs (two for RF Alex Gordon, one for C Salvador Perez).  Our Minnesota-centric group suffered greatly,  We did, however, win a challenge on a close play in the bottom of the sixth – they can't take that away from us.
Yesterday, I promised a bit more about Kauffman Stadium concessions.  I did observe that the funnel cakes were very popular with locals, as was the Topsy Popcorn (which I tasted and would agree had just the right "buttery" flavor). Also high on the list if you are visiting Kauffman should be the the Jamaican jerk sausage sandwich, served on a toasted baguette with mango habañero salsa, green apple slaw and coconut chutney – at the reasonable price of $13.  I'd follow that with the a Berrie Kabob dessert.
So, there'a a look at Day Nine.  It's off to Des Moines at 8:30 a.m. tomorrow for an Iowa Cubs game – the last game on our ten-day tour.
For more on Day One, click here; Day Two, here; Day Three, here; Day Four, here; Day Five, here; Day Six, here; Day 7, here, Day Eight, here.
I tweet baseball @DavidBBRT.
Member Society for American Baseball Research (SABR); The Baseball Reliquary; Baseball Bloggers Alliance.