It was a short (2-3 hour) bus ride from Memphis to Music City (aka Nashville).  We pulled out of Memphis at the very humane hour of 10:30 a.m., a well-rested and ready-to-go group.  Conversations on the bus focused on the previous day's game, past Ballpark Tours Trips and – given that this was a fairly veteran (in terms of BPT tour participation) crew, just the past.  I won't fill in the details, but mentioning just a few of the names and topics that came up can provide some indication of the direction (or lack thereof) that the on-board conversations took:  Soupy Sales; Liberace; Mort Sahl; Tony Kubek; Tony Oliva; The Lovin' Spoonful (and the Lyrics to Nashville Cats); Country Charlie Pride; Frank Sinatra and Elvis (together); Topo Gigio and Ed Sulllivan; Yankees' outfielder Bernie Williams, his two guitar albums and Grammy nomination; Mike Trout versus Brian Harper – you get the idea.
The line of the day: "Remember when Liberace was on "I've Got a Secret."  (You need to be old enough to remember the TV show.)
As noted earlier, we pulled out of Memphis about 10:30 a.m. and, since we would arrive in Nashville ahead of check-in time, our intrepid tour leader chose a stop at the Village Pub and Beer Garden (1308 McGovack Pike) rather than have us wait in the hotel lobby. Great move – great place. Known for its local and regional craft beers, stuffed pretzel sandwiches and locally produced meat and cheese platters, it was the perfect stop for our group.   I went for the  Sausage Sampler Platter (bratwurst and Italian sausages cooked in beer, served on a bed of sauerkraut with garlic paprika Monterey Jack cheese, pepperoncini's, stone ground mustard, and Silke's dark bread), the perfect accompaniment for a cold IPA.  Also popular with our group were the Blackened Chicken Stuffed Pretzel and the Southern Meat and Cheese Tray – not to mention the many beer offerings and the fact that it was Moscow Mule Monday.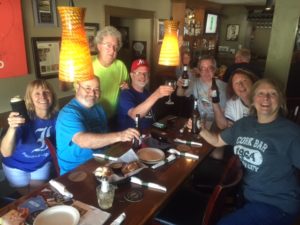 As the beverages flowed, the smiles on our group expanded (and the volume of the conversation was amplified) – at least until the food began to arrive. Overall, it was a tasty and refreshing stop on our way into Nashville.
THOUGHTS FROM BBRT'S SURVEY OF TRIP MATES

What I like most about Ballpark Tours trips.

"Being able to have almost anyone keep my scorebook while I explore the ball park!"  (NM, Woodbury, MN)

"The people. Seeing everyone again is like 'Getting the band back together.' Lots of laugh and memories."  (TF, Saint Paul, MN)
Finally, maybe too soon, it was on to the Hotel Indigo – an upscale, downtown Nashville hotel with well-appointed rooms, a nice bar/restaurant, fast and reliable internet and (this will set the tone) an armoire instead of a closet, slippers for each guest, a Keurig coffee maker and a full line of Aveda body and hair care products.  Enough said.  We'll enjoy the stay.
I headed for the ball park about an hour before game time – just a 6-8 block walk.  I may take a different route next time, on this jaunt I passed mostly abandoned buildings (the area is being revitalized) and bail bonds businesses.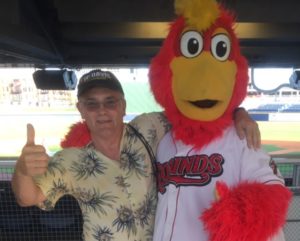 First Tennessee Park –which  opened in 2015 – is home to the Nashville Sounds. The stadium, which holds 10,000, has very sleek design and, most notably, a unique guitar-shaped scoreboard/video board (a tribute to Nashville as Music City). It has a wide concourse that circles the entire field – offering great views from anywhere.  Out in right field, you will find another unique aspect of this ball park – The Band Box, with its full bar and host of free outdoor diversions, including shuffle board, foosball, bean bag games, ping pong and – for a five-dollar fee – miniature golf.  There is also ample seating (couches, lounge chairs, bar stools) and a very "I'm on vacation having a good time" vibe. BBRT recommendation:  If you get here, go there.
It was at The Band Box that I grabbed my traditional Bloody Mary ($8.50).  It was a decent pour, nicely spiced (pepper, tabasco and just the proper amount of celery salt) and garnished with a lime.  In the Pacific Coast League, Nashville and Memphis are traditional rivals.  Nashville is ahead in the standings this year – and they also win the Tennessee BBRT Bloody Mary match-up. (Neither, however, is threatening the Wisconsin Timber Rattlers' lead.)
JUNIOR GILLIAM WAY

First Tennessee Park is located on Junior Gilliam Way. Gilliam – born in Nashville – was an infielder (2B/3B) with the Dodgers from 1953-66; 1953 NL Rookie of the year; a two-time All Star; and key member of seven NL pennant winners (four-time World Series Champions).  Before joining the Dodgers, he was a three-time Negro League All Star (Baltimore Elite Giants) and the 1952 International League Most Valuable Player (with Montreal).  Considered one of MLB's true gentleman – and a gamer who gave his all for the team – Gilliam is not only honored by with Nashville's Junior Gilliam Way, he also has a Los Angeles park named in his honor.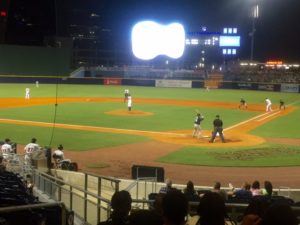 We had good seats once again, down the third base line – and we saw a competitive contest, taken by the Reno Aces (over the Nashville Sounds) 3-2.  Shelby Miller – a 15-game winner for the Cardinals in 2013, but sent down after starting 2-9, 7.14 for the Diamondbacks this season – went 7 1/3 innings, giving up just two runs on ten hits.  He helped himself out with some key strikeouts (a total of nine K's versus no walks). Miller, reaching the mid-90s, threw 72 of 100 pitches for strikes.  In addition, he got a hand (or arm) from Reno catcher Ronnie Freeman who shut down the Nashville running game, nailing all three Nashville attempted stealers (second, third and fourth innings). The Sounds were, apparently, testing the 25-year-old Freeman, in his first game at AAA since being promoted from AA Mobile.  He passed. There was one other attempted steal in the game.  This one, by Reno, was thwarted by Nashville catcher Matt McBride.   Not a good day on the base paths for either side.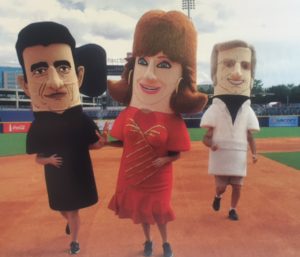 There were mixed feelings about the Nashville Sound Wave (cheerleaders/dance line). Some of our group questioned whether baseball needs cheerleaders.  I'll stay out of that one.  Everyone seemed to like the racing country stars – Johnny Cash, Reba and George Jones.
Reno scored one in the fifth on a long home run by DH Peter O'Brien (his 22nd of the season) and two in the sixth on a bases-loaded single by LF Kyle Jensen.  No surprise there, On the season, Jensen is hitting .287, with 26 home runs and 105 RBI in 116 games.  The offensive star for Nashville was leadoff hitter/CF Arismendy Alcantara (say that three times fast). Alcantara (who has played 86 games at the major league level over the past three seasons)  went two-for-four with a double, triple, RBI and run scored.  Overall, a close, well-played game and a nice, clean scorecard.  (Although, I might note that, while Reno starter Shelby Miller went 7 1/3 innings, the Aces used four pitchers to get the last five outs.)
I'll have more on Nashville and Bleacher Bums XXXIV tomorrow.  We are staying in town and the Tacoma Raniers are coming to town – but I am now off to explore Nashville's Honky Tonk Highway.  To read about Ballpark Tours 2016 Day 1, click here; Day Two, click here; Day 3, click here.  I will leave you with a final baseball commentary.
EDDIE MATHEWS – GOT YOU COVERED

On this date (August 16) in 1954, the first issue of Sports Illustrated hit the newsstands.  One the cover was BBRT's  favorite player of all time, Braves' third baseman Eddie Mathews. The Braves' third sacker – known as a basher (512 career home runs) and a brawler (he had some memorable conflicts with players like Don Drysdale and Frank Robinson) – was pictured hitting a home run.  He would appear on the cover again in June of 1958 and August of 1994 (40th Anniversary Issue).

A few quotes about Mathews tell his story:

Ty Cobb: "I've only known three or four perfect swings in my life, and this lad has one of them."

Bud Selig:  "When you saw him play, you knew you were seeing greatness."

_____

Braves shortstop Johnny Logan:  "I didn't mind starting fights. Mathews was always there to finish them for me."

Braves pitcher Tony Clonigner: "If you ever wanted to pitch inside, you didn't have to worry about the batter making it to the mound with Eddie Mathews at third."

Warren Spahn on Mathews' fisticuffs with Frank Robinson: "He (Eddie) hit him with three punches that not even Muhammad Ali could have stopped."

________

Eddie Mathews on competitiveness: "I'd take on the other third baseman. I wanted to beat him in every department: fielding, hitting, running the bases.  I played that game all my life, and it kept me going."

Eddie Mathews at his Hall of Fame induction:  "I'm just a beat up old third baseman.  I'm just a small part of a game that is a tremendous part of America today."
I tweet baseball @DavidBBRT
Member: Society for American Baseball Research (SABR); The Baseball Reliquary; Baseball Bloggers Alliance.
I