Day Five of Ballpark Tours 2016 (and our time in Nashville) is now in the rear view mirror.  It's on to Chattanooga for a Lookouts (Twins' farm team) game.  But first, let's reflect (another mirror analogy, even at this early hour) on Day Five of Bleacher Bums XXXIV. In the post on Day Two (click here to review), I introduced the journalistic rule – Don't Bury the Lead – which falls only slightly behind Commit to Accuracy and Tell the Who, What, When, Where and Why.  So, let's get right to the lead.
I saw Elvis at First Tennesse Park.
That's right; it was Elvis Night at the Nashville Sounds Game. While it was generally agreed that most of the high-end "Elvi" must have been back in Memphis for Elvis Week, a pair of Elvis impersonators did entertain throughout the game, there were a smattering of Elvis "wannebe's" in the crowd and "Booster," the Sounds rooster mascot was appropriately attired.  And, as you would expect, the music was good.
Best line from The King? When the Sound Wave dance line came out, the larger of the two "Elvi" – dressed all in black (perhaps slated for a Johnny Cash tribute later) – commented something along the lines of "These girls area about six years older than Priscilla when I started dating her."  Side note:  We did see a young man with a football in the crowd, so maybe the cheer leaders/dance line is starting to make some sense.
 Having dispensed with the lead, let's look at Day Five of Ballpark Tours 2016 in a somewhat chronological order.
We had the day free in Nashville and, as usual, individuals and groups set out to explore and experience the host city. The most popular locations seemed to be the Honky Tonk Highway/Broadway Historic District and Printers Alley – both prime areas for music, food, beverage(s) and shopping (pretty much from 11 a.m. to 3 a.m.) and both also an easy walk from the hotel.  Also high on the list were the Musicians Hall of Fame and the Country Music Hall of Fame and Museum.
I opted for Honky Tonk Highway and Printers Alley, and found considerably more activity early in the day in the Honky Tonk Highway area.  There were literally dozens of opportunities to enjoy live music (no cover) and in the few spots I tried (yes, beginning before noon), the performers ranged from one guy with a guitar to a four-piece country rock band.  The music was a bit uneven, but overall pretty good – and there was no cover charge.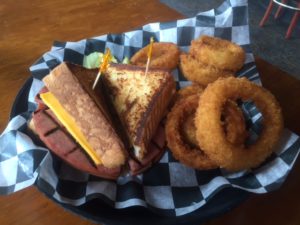 Committed to doing the day in true Nashville fashion, I opted for a lunch of a grilled bologna and cheese sandwich (a Nashville specialty I am told), onion rings and beer, while listening to a two-player, harmonizing group at Honky Tonk Central (a bar restaurant "with three stories, three stages and three dance floors.")  Now, where did I put my boots and hat?  BBRT recommendation – when it comes to grilled bologna and cheese, being a "specialty" doesn't make something "special."
Game time was 7:05 p.m. and by shortly after six p.m., most of the Ballpark Tours crew was "in the building."  There was, of course, the mysterious "draw of the Elvi," but many also heard The Band Box Bar, comfy lounge and "up at the lake" seating recreation area in right field calling.  Despite the availability of such energetic options as foosball, ping pong, bean bag games, shuffle board and mini-golf), the Ballpark Tour boys opted for cold beverages and a spirited game of Jenga – totally avoiding any likelihood of concussion syndrome.  I should add that the recreation area was pretty well packed and everyone seemed to be enjoying the opportunity for some pre-game competition of their own – of course, the adult beverage offerings of the well-appointed bar didn't hurt (especially on another sweltering day.)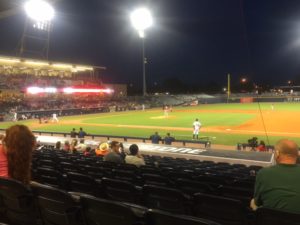 Now, to the game.  The Tacoma Raniers were in town – meaning we were seeing two first-place teams (Raniers 71-51, first in the Pacific Coast League Northern Division) and the Sounds 70-53, first in the Southern Division), playing for home field advantage in the upcoming playoffs.
The competition proved up to the stakes – with Nashville squeaking by Tacoma 2-1.  It was an enjoyable, pretty well played and competitive contest – although it didn't start out that way.  After Nashville starting pitcher Jesse Hahn retired the Raniers in order in the top of the first (with two strikeouts), Nashville went to work in the bottom of the inning.  Raniers' starter Forrest Snow walked leadoff  hitter/CF Arisdmedy Alcantara to open the inning, then gave up a single to RF Jaycob Brugman; struck out LF Renato Nunez; walked 1B Matt Olson; gave up a run-scoring single to C Matt McBride; struck out 2B Joey Wendle; hit DH Rangel Ravelo with a pitch forcing in a run; and, finally, got 3B Colin Walsh on a pop-up.   Eight batters to the plate, two hits, two walks, one hit batsmen and two runs.  It was looking like a long night.
In the top of the second, the Raniers reinforced that assessment, scoring just once, but collecting two doubles and two walks.  A long night, indeed.
We were, however, wrong.  The pitchers settled down and not another crossed the plate all night. In fact, after the top of the second, we only saw three more base hits (and a total of 19 strikeouts) and only three runners got as far as second base.
The final: Nashville – two runs on three hits and no errors; Tacoma – one run on four hits and no errors. Tight and meaningful game in a very nice ball park – a good way to end our stay in Nashville.  For those who track such things, we did have a 4-1 (second base to pitcher) play in the top of the fifth – as Sounds' 1B Matt Olson and 2B Joey Wendle both went for a grounder off  bat of Tacoma 2B Mike Freeman, with pitcher Angel Castro covering first.
In the Majors

Segue time. Yesterday, I wrote about the solid season being had by Reno Ace's left fielder Kyle Jensen, who drove in two runs to reach 105 on the season (in 116 games). Today, I'd like to note that, in Tuesday's MLB action, Blue Jays' 1B Edwin Encarnacion went two-for-five with a home runs (his 34th on the season) and three RBI – to become the first major leaguer to reach 100 RBI in 2016. The Jays, by the way, topped the Yankees, by a 12-6 score, in that game. Encarnacion's line of the season is now .270-34-100. He leads MLB in RBI and is tied for first (with the Orioles' Mark Trumbo) in home runs. The win, coupled with the Orioles' loss in Boston, gave the Blue Jays a one-game lead in the AL East race.
Just a few other notes about our time in Nashville.
One of the best concession items proved to the "Hot Chicken" from the Hot or Not Chicken stand.  A generous portion of "puts-a-fire-in-your-mouth" chicken on a bed of waffle fries with ranch dressing ($10).
Rave reviews were given to the orange-vodka based "Field of Dreamcicle" and Whiskey and Coke Icees available at the right field Band Box Bar.
You can have cheesecake (Lavender Cheesecake, I am told) with your "cheesecake" during the burlesque show at Skulls Rainbow Room – very near our hotel. (Those who attended said the show is somewhat "rules-driven."
417 Union is a great place for breakfast downtown Nashville – and serves a Ballpark Tours-worthy Bloody Mary.  (I may head there right after I finish this post.  After that, it's back on the bus for the run to Chattanooga.)
How Close to the Big Leagues – and other trivia

It's totally unscientific, but looking at Monday's Reno Aces/Nashville Sounds rosters – 17 of the 51 players listed (one of every three) already have spent some time in the big leagues (all or parts of 42 seasons and a total of 1,151 MLB games).  Note: I did not include Sean Doollittle, who is in Nashville on an MLB rehab assignment.  The level of major league experience ranges from three players with as few as three games to the eight MLB seasons and 444 games played (pitched) for former Pirate, National and Twin Matt Capps (MLB record 29-33, 3.52, 138 saves). Since the Twins declined a one-year option on Capps in October of 2012, Capps has not pitched in the major leagues.  He has been in the Indians', Braves' and Diamondback's systems. This season, with the Reno Aces (Diamondbacks), the 32-tear-old reliever is 3-0, with a 5.18 ERA and three saves.

For those with an interest in these kinds of numbers, the oldest player on the Aces/Sounds rosters is 33-year-old Nashville pitcher Angel Castro – who got the win in our Tuesday night game.  Between 2006 and 2016, Castro played 366 games – minors and foreign.  He also appeared in five games for the Oakland A's in 2015 (0-1, 2.25 ERA in four innings pitched). The youngest player on the rosters is 22-year-old corner infielder Renato Nunez of the Sounds (born April 4, 1994). The Venezuelan, signed as an international free agent in 2010 (at age 16) is in sixth season in the A's system – and (as of August 15) was hitting .242, with 21 homers and 70 RBI for the Sounds.
For more on Ballpark Tours Bleacher Bums XXXIV: Day one, click here; Day Two, here; Day Three, here; Day Four, here.
I tweet baseball @DavidBBRT.
Member:  Society for American Baseball Research (SABR); The Baseball Relliquary; Baseball Bloggers Alliance.