If a tree falls in the forest and there is no one there to hear it, does it still make a noise?
Why I ask, you ask!  Because Day Eight of Ball Park Tours Bleacher Bums XXXIV was defined as much (or more) by what we didn't see, than by what we saw.
Let's start by talking a little baseball – Twins baseball, because we are now in Kansas City, taking in a pair of Royals/Twins tilts. Yes. after just six minor league games, we've been called up to "The Show."
We arrived, by bus, at Kauffman Stadium under ominous skies and even more ominous weather reports.  Predictions were that a major storm front would roll in about 9:00 p.m. (7:15 game time) with significant rainfall, high winds and plenty of lightening.  We were well-armed for the confrontation, with umbrellas, Ballpark Tours 30th Anniversary windbreakers and ponchos (many bought at the Chattanooga Lookouts game).
The game started on time, with the Twins' Jose Berrios (2-3, 9.32) facing off against the Royals' Edison Volquez (9-10, 4.95).   We didn't expect a pitchers' duel – and we didn't get one.
The Royals struck first, in an ugly second inning. Berrios started the frame by fanning Royals' DH Kendrys Morales.  From that point on, things fell apart. C Salvador Perez singled; LF Alex Gordon walked; SS Alicides Escobar singled in a run; 2B Raul Mondesi walked, loading the bases.  Then Berrios walked CF Jarrod Dyson AND 3b Cheslor Cutberth – forcing in two runs (no more exciting play in baseball than the bases-loaded walk) – before getting RF Lorenzo Cain to end the inning on a 6-4-3 double play. Three runs on two hits and four walks – not a good sign.
The Twins came back on a long home run by 2B Brian Dozier (his 28th) leading off the third.  But, the Royals countered in the fourth, producing a run on a walk (of course) and two singles.
Then in the top of the fifth, with storms threatening (and eventually arriving), the Twins rallied with: a double by CF Eddie Rosario; a run scoring double by C Juan Centeno; a strikeout by LF Danny Santana; a single by Dozier (who then stole second); and a two-run single by SS Jorge Polanco – tying the game at 4-4.  It was at precisely that time, with Joe Mauer coming up, that the skies began to open up, the tarps came out and game went into a rain delay.
That's what we saw.  Here's what we didn't see.
First, having studied, the weather reports, we didn't wait too long before heading back to the hotel on the bus.  (Our early departure was the rule, rather than the exception, among fans at the game.) From there, some of our  folks headed out on the town, while others watched on smart phones to see if the game would resume – the stakes were high, there had been some friendly wagering on whether we would see any more rainouts (after the Day One washout) on this trip.  The speculation was accompanied by adult beverages in the lobby, where discussions touched on such topics as that night's game and suspended versus cancelled game rules, Pete Reiser, Kaufmann Stadium concession prices, Mike Trout and the Twins' pitching staff.
Shortly before midnight, when the lobby was pretty much empty (bar closed at 11:30) – and after a three-hour-plus rain delay – play resumed.  Twins' 1B Mauer walked to put runners on first and second (remember the Polanco double that tied the game); 3B Plouffe popped up; and RF Max Kepler was called out on strikes to end the fifth inning.  The game remained scoreless until the bottom of the 11th inning, when Kansas City pushed across a run to win it by a 5-4 score – AT APPROXXIMATELY 2:15 a.m.  Yes, we missed an exciting game.  Yes, some of us might (and that's a big MIGHT) have stayed.  But it takes a village to do a baseball tour – and there are times that community interests must prevail.  Plus, we still have baseball on the slate for Saturday and Sunday.
Now, a brief look at the day (I have to wrap this post up early, a group of us are headed to the Negro Leagues Baseball Museum this morning).
On Day Eight, we had an early morning departure from the Marion (IL) Holiday Inn Express (8:30 a.m.), so the free buffet breakfast was pretty well attended.  Two highlights from breakfast (which included the usual items like scrambled eggs, sausage, bacon, cinnamon rolls, toast, biscuits and gravy, etc.): 1) They had a pancake machine.  (You know, the ones that shoot out pancakes like a copier – or, as I like to say "Breakfast and a show." 2) One of our tour group walked to a nearby Krispy Kreme and brought back warm donuts. Glazed donuts and coffee, great start to the day.
The trip to Kansas City was about six hours – including a lunch stop – and much of it was spent retelling tales from earlier in the trip (and discussing the scoring possibilities related to the extra inning "gift" runners in the Frontier League).  The lunch break was near a truck plaza, so we had our choices of fast food offerings.  I selected Arby's and it proved a good decision.  Remember that meatball sandwich I couldn't get in Marion?  The limited time special at Arby's was – wait for it – a meatball sandwich.   The baseball gods apparently were smiling down on our maroon coach.
Oh, a little coach story here.  We are traveling on a Sugar Loaf (name of company) coach and some of our participants overhead local residents at one of our stops talking about the bus, speculating that "Sugar Loaf" was a touring country band.  I guess we are traveling in luxury – and we did stop in Nashville. Next gig, Kauffman Stadium.
ADDENDUM TO DAY SEVEN

An additional bit of information on Day Seven – for the full day, click here.  I noted yesterday that the Frontier League has adopted rules that have each team starting any inning after the tenth inning with a runner on second – and wondered about the scoring. After a deeper look, I have found that the "gift" runner is designated on the scorecard as (ITB) – indicating a runner put on via international rules.  I also found that, while the pitcher who allows such a gift runner to score can still take the loss, the ITB runner's tally is not considered an earned run.

Also, here is a photo of the Ballpark Tours group leading the seventh-inning rendition of Take Me Out to the Ball Game.  Given that the entire Southern Illinois Minors field is artificial turf (even the "dirt" portions), it might have been more appropriate if we had lip-synched the tune.  
We checked into the Holiday Inn Country Club Plaza in Kansas City at about 4:00 p.m., with the bus slated to head to the ball park at 6:00 for a 7:15 game.  You've already read about the game – which is also how we found out about most of it.  So, let's look at the ballpark.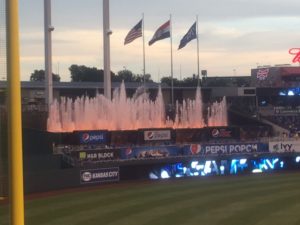 Arriving at Kaufmann Stadium, you first notice the higher level of security (as opposed to all our minor league stops) … bag searches and metal detectors were the order of the day.  Once inside the stadium, which opened in 1973 and underwent significant renovation in the late 2000's, you notice the steep upper deck, massive "Crown Vision" scoreboard/video board in center field and the right field fountain area.
Our group also noticed the concession prices – reporting paying $11 for a beer and $7 for a bottle of water.  Sticker shock quickly set in (of course, we had just come off the $1 beer, hot dogs and peanuts in Marion). I'll try to have more on concessions at Kaufman Stadium in my Day Nine post. I didn't have a lot of time for sampling after visiting the Royals Hall of Fame, picking up my Bloody Mary, acquiring ($1) and filling out the lineup on my scorecard, finding my seat and then joining the hoards fleeing the storm.
NOTE: Spoiler Alert – Given our Saturday/Sunday schedule, I may have to combine Days Nine and Ten into one final report. 
If you are visiting Kauffman, I would suggest that, before you take your seat, you visit the Royals Hall of Fame Museum (open until the top of the ninth inning). It's located on the plaza  in the right field corner. You'll find lots of great memorabilia, as well as plaques for the Royals (team) Hall of Fame members.  The biggest attraction seems to be the opportunity to have your picture taken with the 2015 World Series trophy – there was a long line of still giddy Royals' fan waiting for that photo op. I was impressed with the big number five constructed out of 3,154 baseballs – one for every George Brett regular season hit.
Our seats were in the lower deck, down the right field line, good sight lines, but (as expected) further from the action than in the minor league parks we had visited. But then again, we had been called up to "The Show."  There looked to be about 30,000 fans in the house (reported attendance was 28,463) and they were a loud and enthusiastic lot.  (Although it was hard to tell, since we were seated very near a set of speakers that blasted out the "Get Loud" music at almost painful decibel levels).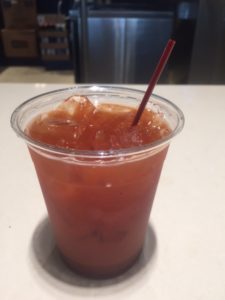 The Bloody Mary – $10 at the Boulevard Pub – was adequate: good pour; spicy, but not over bearing (it could have used a touch more tabasco and a bit of celery salt); it included a lime wedge, but I do like more substance in a Bloody Mary (maybe a celery stick, olives or a pickle spear.) Still at $10, it was a better bargain than the $11 beer.  (One of our group reported paying $27 for two beers and a bag of peanuts.)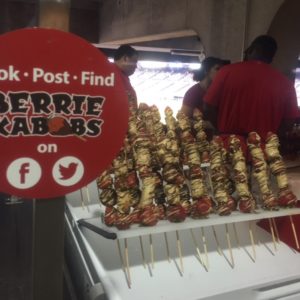 One popular concession item with our group was the "Berrie Kabob" – available for $7 at a nearby concession stand or from strolling vendors. They consisted of chocolate dipped strawberries, bananas and brownies (in various combinations) on a stick – and were delicious.  If you are looking for dessert, this one is a hit.
That's it for Day Eight. For the reports on Day One, click here; Day Two, here; Day Three, here. Day Four, here; Day Five, here; Day Six, here; Day Seven , here.
The Day in MLB

A big day for home runs in MLB yesterday – a total of 49 round trippers in 15 games (only one in our game, but at least we were there for it). A few observations;

In Baltimore, the Orioles bashed four round trippers before they made their first out – in a losing cause. (They lost 15-8 to the Astros.)

The Cardinals tied an MLB record with their ninth consecutive multi-homer game, hitting a pair of long balls as they topped the Phillies 4-3 in 11 innings.

In Baltimore, both leadoff hitters started their team's offense with first-inning home runs (George Springer, Astros/Adam Jones, Orioles). Not to be outdone, the leadoff hitters for the Cubs and Rockies (Dexter Fowler, Cubs/David Dahl, Rockies) matched the feat.
I tweet baseball @DavidBBRT
Members:  Society for American Baseball Research (SABR); The Baseball Reliquary; Baseball Bloggers Alliance.