Thanks for your interest – and here's a look at how I came to be a T-Mobile All Star FanFest Volunteer
June 1 – Informational Meeting (Target Field)
My All Star week volunteer experience began long before the All Star game itself – signing up in late May  (on-line at MLB.com) as a willing volunteer for at least one of the many All Star Game-related events.
All the potential volunteers received emails indicating we should attend one of two initial informational sessions (at Target Field) – Sunday, June 1 at 3:00 p.m. or Monday June 2 at 5:00 p.m.  I selected the Sunday session and arrived at Target field right at 2:15 p.m. (when Gate 6 opened).  Despite arriving 45 minutes early and traveling more than 50 miles, I was neither the earliest to arrive, nor the volunteer from farthest away. I talked with potential volunteers from as far away as northern Iowa and others who had arrived more than 90 minutes early.  The crowd, which would eventually grow to more than 500, was decked out in plenty of Twins' garb.  An uninformed observer might have concluded that the Twins were at home. (They were playing the Yankees in New York.)
The Twins provided plenty of excitement while waited for the official programming to start.  Trailing 2-1 in the top of the ninth, the Twins rallied for six runs (five scoring after two outs) and a 7-2 win.  There was, as expected, plenty of cheering, clapping and high-fiving for a victory that occurred 1,200 miles away – and lots of grins as Twins announcer Roy Smalley, Jr. referred to the ninth- inning action as "an old-fashioned ambush."
It was a great way to start our All Star week volunteer experience.  We then moved on to a number of live and video presentations about the All Star game and all the events surrounding it, with a special focus on the benefits for the community. There were nods of approval, with the only grumbles coming during the video comments from MLB Commissioner Bud Selig (who remains unforgiven among many Minnesota fans for the "contraction" proposals of 2001-02).
Next on the Agenda was a brief three- or four-minute interview for each attendee, gathering general background information on availability, knowledge of the Twin Cities area and reasons for wanting to serve as a volunteer.  The interview ended the first day of my All Star volunteer "experience." Over the next few weeks, there were several contacts via email, asking me to confirm my willingness to volunteer, indicate what days and times I would be available and, finally, citing preferences among volunteer opportunities.  (Notably, MLB offered incentives, in the form of early opportunities to select your preferred activities, based on your promoting of the All Star game and related events via social media.)
July 9 – Volunteer Orientation – Minneapolis Convention Center
The next official meeting for volunteers came on July 9 at the Minneapolis Convention Center – we were notified of this meeting via email. Again, there were several hundred volunteers in attendance (I found out later that there were approximately 1,500 total volunteers, with 1,200 of those slated for the five-day T-Mobile All Star FanFest). The orientation meetings were at noon and 6:00 p.m.  I elected for the noon gathering and, once again, saw lots of baseball garb.  Only this time, the geography was expanded considerably, including jerseys and T-Shirts indicating allegiance to teams from New York and Boston to San Diego and Los Angeles and points in between.  Talking to my fellow volunteers, I learned that many of them (particularly among those who, like me, are retired) make this an annual event. They travel to the All Star city each year and make the volunteer efforts part of their vacation.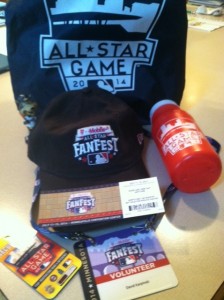 As we signed in (a very efficient process), we each received a T-Mobile All Star FanFest baseball cap, cinch-style back pack, ID badge, water bottle, one extra ticket to FanFest (our badges would get us in anytime) and our assignments.  I drew the noon-5:00 p.m. shift on Friday, Monday and Tuesday, working at the MLB Network, All Star Clubhouse and FanFest Tire Tryout locations, respectively.  (We found out later that we would get our FanFest polo shirts when we signed in for our first official assignment – apparently an incentive to show up. We also received an email the next day indicating those who worked all three of their assigned shifts would be entered in a drawing for two tickets to the All Star Game itself.  Makes one wonder if no-shows have been an issue.)
There was plenty of enthusiasm, both among the paid workers and the volunteers – and the main message seemed to be have fun.  And, we did have some fun with watching a baseball blooper video and playing an All Star trivia game before the meeting really got rolling.
Still, it was not all fun and games.  One of the first presentations focused on security, safety and anti-terrorism (Scott Gerlicher, Minneapolis Police Department Commander, Strategic Information and Crime Analysis Division). We also received information on various rules (khaki or dark blue pants, no jeans, caps worn bill forward, etc.)
The next step was to meet our Zone Supervisor (I would be working in Zone 3) and tour the exhibition hall floor (with activities and displays still under construction). My Zone was led by Jim Barletto, who started us out by telling us he was there because he loved baseball and loved the people who love the game of baseball.  He went on to use the letters in FanFest to explain what the event (and our volunteer activity) should be all about. F for fans; A for attitude; N for information (bit of a cheat there); F for fun; E for enthusiasm; S for safety; and T for teamwork.  Barletto did stress, more than once, that we should be ourselves and have fun, and that attitude seemed to be the order of the day, no matter what the activity and no matter who you were dealing with.
From there, it was up to each of us to show up for our assignments – on time, properly attired and wearing a smile.  I should add that once you entered FanFest and were greeted by other smiling volunteers, excited fellow baseball fans and the world's largest baseball – signed by the likes of Ted Williams, Hank Aaron, Yogi Berra, Willie Mays, Rod Carew, Tony Oliva and others – the smile was no problem at all.
Like I said in the post that brought you here, I have two more shifts to work – and I can't wait to get back.