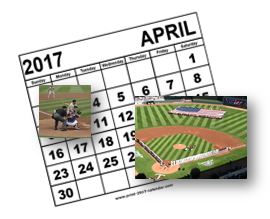 Well, April is behind us and, while April didn't necessarily provide the kind of showers that will bring May flowers, it did bring showers of home runs – including three-homer games by Yoenis Cespedes, Matt Kemp and Anthony Rendon; home runs as part of three cycles (Wil Myers, Trea Turner, Carlos Gomez); double figures in home runs for the month by Eric Thames, Ryan Zimmerman, Khris Davis and Aaron Judge; and even a home run hit by a pitcher being used as a pinch hitter (Michael Lorenzen).
So, let's get on to BBRT's traditional review of the previous month of the MLB season. I hope you enjoy this look back at April – and come across a highlight or two you may have missed.  (Note:  April is always the easiest month to "wrap," since monthly and year-to-date leaders are the same. Future wrap ups will look at month and year-to-date stats.) Before we get into detailed highlights and statistics, here are a few quick observations – events or stats that particularly caught BBRT's eye. (Appreciation to great sources: Baseball-Reference.com, MLB.com, ESPN.com, Statcast and the Minneapolis Star Tribune.)
The Washington Nationals scored more runs in April (170) than the Kansas City Royals had base hits (161).
Despite the DH, only one American League team (Yankees) finished among MLB's top five teams in runs scored.
Washington RF Bryce Harper set a new MLB record for runs scored in April (32) – and was arguably not even the best hitter on the Nationals.  In addition to scoring 32 runs, Bryce hit .391, with nine home runs and 26 RBI. Nats' 1B Ryan Zimmerman, however, put up a .420-11-29 line for the month (topping MLB in average, home runs and RBI, as well as hits and slugging percentage).
Run support counts: The Red Sox' Chris Sale finished April with MLB's highest strikeout total (52) and second-lowest ERA (1.19) – but won only one game (against two losses).  The Twins' Phil Hughes and Brewers' Wily Peralta both went 4-1 for the month – despite ERA's north of five (5.06 and 5.19, respectively).
On the final day of the month, the Nationals' 3B Anthony Rendon not only had a three-homer day, but also became just the 13th MLB player to drive in ten or more runs in a game – going six-for-six, with three home runs, a double, two singles, five runs scored and ten RBI.  It was a bit of a surprise; Rendon came into the game hitting .226, with no home runs, just five RBI and five runs scored.  In one game, he doubled his runs, tripled his RBI, raised his batting average 52 points – and how do you put a percentage on going from zero home runs to three?  Oh yes, the Nationals pulled out a squeaker over the Mets 23-5.
Home cookn' was good in April. Home teams went 205-165 (.553). More important: Only seven of 30 teams finished the month below .500 at home, while 19 teams finished below .500 on the road.  The Royals were the best example of this – going 5-5 at home and 2-11 on the road.
A pair of 32-year-old veterans were the only two batters to finish April with averages north of .400 – the National's Ryan Zimmerman (.420) and the Dodgers' Justin Turner (.404).
The Twins Erwin Santana was the only qualifying pitcher to record an ERA under 1.00 for the month.  Santana gave up just three runs in five starts, going 4-0, 0.77.  In 35 innings pitched, he gave up just 13 hits.
The Rockies have been outscored by six runs this season – but stand six games over .500 (16-10); while the Rangers have outscored their opponents by eight runs, but are three games under .500 (11-14).
Only four players reached 25 RBI in April (good start toward that century mark) and three of them hit back-to-back-to-back in the middle of the Nationals' order. Your 25-RBI guys: Nationals' 1B Ryan Zimmerman (29 RBI), RF Bryce Harper (26); 2B Daniel Murphy (26).  The outlier on the list? The Twins' Miguel San0 (25 RBI to go with a .316 aveage and seven homers.)
The Astros' Dallas Keuchel got six starts in April and made the most of them, going 5-0 (April's only five-game winner) with a 1.21 ERA.
Mets' reliever Hansel Robles finished April tied for second in victories (four), going 4-0, 1.84, while pitching a total of 14 2/3 innings in 13 appearances.
—-LET'S LOOK AT TEAMWORK—-
No team won more games in April than the Nationals – 17-10, .680 – and they literally bludgeoned their opponents into submission. The Nats led MLB in runs scored with 170 (29 more than the second-most productive D-backs); batting average .295 (the Astros were second at .272); hits (265); doubles (58);  on base percentage (.369); and slugging percentage (.510).  The Nationals were  second  in home runs with 43 (two behind the Brewers). Meanwhile, their ERA (4.40) was 24th among MLB's 30 teams.  Three teams came in with 16 wins on the month: the Astros (16-9);  Rockies (16-10); and D-backs (16-11).
At the othe end of the spectrum, the Royals had April's worst record 7-16, .304 – with middle-of-the-pack pitching (4.18 ERA, 18th) and a woeful offense.  The Kansas squad was last in MLB in runs scored (63), batting average (.210), hits (161), on base percentage (.270) and slugging percentage (.336). They finished the month on a nine-game losing streak, with a lineup that featured  five hitters batting under .230. Two other teams finished April with less than ten wins: the Giants (9-17) and the Blue Jays (8-17).  Full standings are in a chart at the end of the post.
Nationals RUNning Away from Opponents in April

The Nationals put up the strongest run differential in April, outscoring opponents by 48 tallies.  The only other team to reach even top a plus-30 differential was the Yankees (+43). At the other end of the standings, the Royals had MLB's worst April run differential at minus-37.  Two other teams came in at minus-30 or worse: the Padres (-31) and Giants (-33). 
IF THE SEASON ENDED APRIL 30, THE PLAYOFF TEAMS WOULD BE:
NL: Nationals, Cubs, Rockies. Wild Cards: D-backs, Dodgers.
AL:  Astros, Orioles or Yankees, Indians. Wild Cards: White Sox, Orioles or Yankees.
Surprises Thus Far
The injury-strapped Mets and undeerperforming Giants and Blue Jays (29th and 28th in runs scored), all in last place in their respective divisions – and the NL West Division Rockies; fifth in rus scored, but 26th in ERA, somehow getting the job done (16-10), despite being outscored 125-119 through April).
________________________________________
BASEBALL ROUNDTABLE PLAYERS AND PITCHERS OF THE MONTH

National League Player of the Month – Ryan Zimmerman, 1B, Nationals …  Hard to go against MLB's top hitter on the season (.420). The 32-year-old Zimmerman – coming off a series of injury-hampered seasons  – has been healthy and scorching hot for the Nationals. Through April he was .420-11-29 – leadinG  MLB in all three Triple Crown categories.  (It's a great start for the Comeback Player of the Year Award.)  For the 2014-15-16 seasons, Zimmerman averaged 90 games, .242 average, 12 home runs and 53 RBI.  Others in the running  were: Nationals' Bryce Harper (.391-9-26, with an MLB-best 32 runs scored) and Nationals' 2B Daniel Murphy (.343-5-26). 

American League Player of the Month – Aaron Judge, RF, Yankees … This big rookie (6'7″, 280-pounds) is playing big for the surprising Yankees.  His April numbers were .303-10-20.  His ten April roundtrippers tied for the AL lead and matched  the MLB rookie record for the month.  Judge also led the AL in runs scored with 23. Others in the running: White Sox RF Avisail Garcia (AL-leading .368 average, five home runs, 20 RBI) and Twins' 3B Miguel Sano (.316, seven home runs, league-leading 25 RBI).  

National League Pitcher of the Month – Greg Holland, Closer, Rockies … Holland is one of the main reasons the Rockies stand atop the NL West with a 16-10 record. Holland saved 11 of the Rockies' April victories (in 11 save opportunities) – leading all of MLB in saves.  He pitched in 12 games, with a 1.50 ERA and 13 strikeouts in 12 innings pitched. Also in the running: Phillies' Jeremy Hellickson (4-0, 1.80) and Dodgers' Clayton Kershaw (4-1, 2.29, with 39 strikeouts in 35 1/3 innings). 

American League Pitcher of the Month – Erwin Santana, Starter, Twins ... Santana went 4-0 in five April starts, averaging seven innings per outing, with an MLB-low 0.77 ERA and .116 batting average against  In 35 innings pitched, Santana has given up just 13 hits and three earned runs, while walking ten and fanning 26.  Also in the running: Rockies' Dallas Keuchel (5-0, 1.21) and Mariners' James Paxton (3-0. 1.39).
—-TEAM STATISTICS – APRIL 2017 —-
MOST RUNS SCORED (MLB Average – 109)
NL: Nationals – 170; D-backs – 141; Brewers 135
AL: Yankees – 128; Mariners – 119; Tigers 118
FEWEST RUNS ALLOWED (MLB Average – 109)
NL: Dodgers – 92; Phillies – 100; Marlins – 103
AL: White Sox – 83; Yankees – 85; Astros – 89
BATTING AVERAGE (MLB Average – .247)
NL: Nationals – .295; D-backs – .269; Braves – .263
AL: Astros – .272; Red Sox – .270; Yankees – .266
HOME RUNS (MLB Average – 29)
NL: Brewers – 45; Nationals – 43; Mets – 37
AL: Yankees – 37; Rangers – 34; A's – 31; Rays – 31
STOLEN BASES (MLB Average – 13)
NL: D-backs – 32; Brewers – 25; Reds -23
AL: Rangers – 22;  Mariners – 21; Yankees – 18
The Need for Speed

The Rockies swiped an MLB low four bases (eight attempts) in April. 
ON THE OTHER SIDE OF THE COIN
No team has put fewer runners across the plate then the Royals (63). The second-lowest tally belongs to the Giants (87 runs.) As you might expect the Royals were also at the bottom in April batting average (.210).  Their 24 home runs, however, topped seven other teams – with the Big Papi-less Red Sox hitting the fewest April round trippers (15). The Red Sox lack of power led to the sixth-fewest runs among the 30 MLB teams. .
TEAM EARNED RUN AVERAGE (MLB Average – 4.09)
NL: Dodgers – 3.50; Cubs – 3.77; D-backs – 3.81
AL: White Sox – 3.11; Yankees – 3.35; Astros – 3.38
BEST STARTING STAFF ERA FOR APRIL – Cardinals (3.32)

WORST STARTING STAFF ERA – Red (5.96)

BEST BULLPEN ERA FOR APRIL – White Sox (1.94)

WORST BULLPEN ERA – TIGERS (6.43)
STRIKEOUTS (MLB Average – 202)
NL: D-backs – 252; Dodgers – 242; Mets – 239
AL:  Astros – 238; Indians – 236; Angels – 236
FEWEST WALKS ALLOWED (MLB Average – 81)
NL: Phillies – 65; Nationals – 67; Dodgers – 73
AL: Yankees – 65; Indians – 66; Twins – 69
THE OTHER SIDE OF THE COING

The worst team Earned Run Average in April  belonged to the Tigers at 5.19 – the only team over 5.00. The Padres and Angels gave up the most April home runs (38). The fewest pitchers' strikeouts: Twins (153) and Braves (158). In terms of control, no team has walked more batters than the Orioles (99), although the Reds can see their tail feathers (98 walks allowed). 
______________________________________________
INDIVIDUAL PLAYER PERFORMANCE
Now, let's take a look at some individual player highlights for April, followed by the statistical leaders.
Here Comes the Judge
On April 29, Yankees' rookie outfielder Aaron Judge bashed his tenth homer of the month, tying the April record for MLB rookies (Jose Abreu, 2014 and Trevor Story, 2016). The 6'7", 280-pound Judge finished the month  at .303-10-20.
Here Comes the Vet
Angels' 1B/DH Albert Pujols – in his 17th MLB season – put up a .24o average, with three home runs and 22 RBI in April.  The three home runs put him at 594 for his career – six shy of 600 and 13 behind Sammy Sosa for the number-eight spot all time.  The 22 RBI gave him 1,839 for his career and moved him past Al Simmons, Manny Ramirez, Dave Winfield, Rafael Palmeiro, Ken Griffey Jr. and into a tie with Ted Williams for number-fourteen all time.  Side note: Pujols started his career with ten consecutive seasons of a 300+ average – 30+ home runs – 100+ RBI.
OUCH!  OUCH! OUCH!  REALLY?
On April 4, Cardinals' RF Stephen Piscotty had a tough – if somewhat shortened – day at the office.  It all started with one out in the fifth inning of the Cardinals 2-1 loss to Cubs. First, Piscotty was hit by a pitch (right elbow) by Cubs' starter Jake Arrieta.  Piscotty then took second base on a wild pitch, but was hit on the left elbow by catcher Wilson Contreras' throw to the bag.  Cardinals' 2B Kolten Wong followed with a slow grounder to Cubs' second sacker Javier Baez, who bobbled the ball – leading Piscotty to round third and scoot for home. Piscotty did  score, but was hit in the head by Baez' throw the plate. The three "hits" left the Cardinals' outfielder stunned, shaken up and lying face down near home  plate (and, ultimately, helped from the field and out of the game).
THINGS ARE HOPPING IN SEATTLE
The Mariners 2017 home opener took place on April 10 – and, like most teams, they had some new concession offerings.  One of the most popular new concession was the Chapulines ($4) – grasshoppers roasted and tossed in chili-lime salt. How popular were they?  They sold out – 312 orders per game (reportedly in honor of Edgar Martinez' career batting average) – at all three games of the opening home stand (roughly 18,000 grasshoppers).
Cycles Built For Three
April saw three players hit for the cycle: the Padres' 1B Wil Myers (April 10), Nationals' SS Trea Turner (April 25) and Rangers' CF Carlos Gomez just under the wire (April 29).
Myers, in the Padres April 10th 5-3 victory over the Rockies (in Colorado), singled to right field  in the first, hit an RBI double to left  in the second, homered to right in the sixth and tripled to left center in the eighth.   He finished the game four-for-four with two runs scored and two RBI.
Turner's cycle came on April 25 – fueling the Nationals 15-12 win over the Rockies (also at Coors). Turner singled to right in the first inning, hit a two-run double to left in the second inning, smacked a two-run homer to right in the sixth and drove in three more  with a bases-loaded triple in the seventh.  For the day, Turner was four-for-six, with four runs scored and seven RBI.  The very next night, Turner almost became the first player to hit for the cycle two games in a row.  Again facing the Rockies – after striking out in the first and grounding out to third in the second – Turner hit a solo home run in the fifth inning, singled in the seventh and doubled in the eighth.
Gomez' April 29th cycle – in a 6-3 win over the Angels in Texas – was the second of his career. Gomez doubled to left in the first inning; lined a single to the right side in the third; hit an RBI triple to right-center in the fifth (later scoring on a Rougned Odor's home run); and hit a two-run homer to center in the seventh.  Gomez finished the game four-for-four, with two runs scored and three RBI. Gomez' first cycle came nine seasons ago – May 7, 2008 – when he was with the Twins.
Four-For-Three

Only four players have hit for the cycle three times in a career: the Reds' John Reilly (1890 and twice in 1893); the Yankees' Bob Meusel (1921, 1922, 1928); Babe Herman (Brooklyn Robins twice in 1931 and Cubs in 1933); Adrian Beltre (Mariners in 2008 & Rangers in 2012 and 2015).
An Immaculate Inning
On April 18, Reds' reliever Drew Storen became the 78th MLB pitcher to throw whats is referred to as an immaculate inning – striking out the side on nine consecutive pitches. Storen came on in the top of the ninth (with the Reds leading the Orioles 9-3) and fanned Jonathon Schoop, J.J. Hardy and Hyun Soo Kim.  For more on immaculate innings and those who have thrown them, click here.
Tough to Fan
On April 19, Boston RF Mookie Betts did something he hadn't done in 129 regular-season plate appearances (dating back 29 games to September 12, 2016) – strikeout. It came in the top of the fourth inning of the Red Sox' 3-0 loss to the Blue Jays – on a 2-2 slider from Francisco Liriano. It was the longest "strikeout-free" MLB streak since the Marlins' Juan Pierre went 147 plate appearances without a K in the scorebook in 2004.
PUTTING THE BAT ON THE BALL

The longest "strikeout-free" stretch in MLB history belongs to outfielder Joe Sewell. Sewell went from May 19 to September 19, 1929 – a streak of 115 games – without striking out. During his 115-game streak, Sewell racked up 516 plate appearances and  436 at bats without making the post-K "walk of shame" to the bench. The 5'6", 155-pound Indians' third baseman also collected 143 hits (.328), with 27 doubles, two triples, seven HR and 56 RBI during the whiff-less streak.   On the season, Sewell fanned just four times in 578 at bats – and it wasn't even his best campaign in terms of at bats/per whiff.   That would be 1932, when Sewell struck out just three times in 503 at bats – or once each 167.7 at bats (the post-1900 MLB record). For his career (14 seasons/Indians and Yankees), Sewell fanned 114 times in 7,132 at bats – or once each 62.6 at bats.

Side note: In 1927, Sewell had a tough year on the base paths.  He was caught stealing in a league-leading 16 times (in 19 attempts).  Notably, he was successful in 17 of 24 attempts the season before and seven of eight attempts the season after.
YA GOTTA SEE THIS!  HOW ABOUT AN UNASSISTED DOUBLE PLAY BY A PITCHER?
More #WhyIHateThe DH
On April 6, Reds relief pitcher Michael Lorenzon was sent to bat for fellow pitcher Cody Reed with two outs and the bases empty in the bottom of the sixth inning of a 4-4 game (Philadelphia at Cincinnati). Lorenzon delivered a go-ahead home run to right center (the Reds eventually won 7-4). Through April 2017, Lorenzen is a .244 MLB hitter (11-for-45, with two home runs and eight RBI.)  Ironically, the Reds did not have a single pinch hit homer in 2016 – and it took a pitcher to break the hex.
On April 21, Cardinals' pitcher Adam Wainwright blasted a 96-mph fastball from the Brewers' Wily Peralta into the second deck in left field for a third-inning, two-run home run. The very next inning, he added a two-run single, giving him four RBI in the Cardinals 6-3 win in Milwaukee.  (Wainwright got the win, giving up two runs on six hits in five innings – while fanning nine.) Side note: Wainwright is one of only thirty MLB players to hit a home run on the first MLB pitch they ever saw (May 24, 2006). Notably, eight of those 30 were pitchers.
Run Don't Walk
Must we track everything?  On April 22,  Oakland A's 33-year-old SS Adam Rosales  led off the first inning with a home run off the Mariners' Ariel Miranda.  Miranda's embarrassment didn't last long as Rosales rounded the bases – according to Statcast – in just 15.90 seconds.  Statcast notes that this is the fastest over-the-wall home run trot (gallop?) ever.  How fast? Well, Charlie Blackmon of the Rockies hit an inside-the-park home run the night before – and Blackmon's dash around the bags was less than four-tenths of a second (0.36 seconds to be exact) slower than Rosales' "leisurely" trot.  Note:  The A's topped the Mariners 4-3, while the Rockies bested the Giants 6-5.
Walk Don't Run
Pirates' starter Ivan Nova hadn't given up a walk since last September 13 (146 batters faced without a free pass), when he started against the Yankees on April 23. And, he continued his streak – striking out the side in order in the first inning, retiring the side in order (one strikeout) in the second and getting the first two batters in the third (streak now at 154  consecutive batters faced without a walk).  That brought Yankees' starting pitcher Jordan Montgomery to the plate for his for his first-ever MLB at bat (in fact, his first professional plate appearance at any level).  What happened?  Nova walked him on a 3-2 count.  Nova went seven innings in the contest, giving up four hits and one runs, striking out seven and walking only Montgomery.  As of April 30, Nova has pitched 36 innings in 2017, with just the one walk and 22 strikeouts.
Run or Walk … Just Don't Ride
On April 20, San Francisco Giants staff "ace" Madison Bumgarner went down (possibly until the All Star break) with rib and shoulder injuries- sustained in a dirt-bike accident.  Ouch!
Just Like Little League
Remember in Little League, when the coach would move pitchers on and off the mound  in a close game – maybe bringing the shortstop in to pitch to a hitter and then moving him back to shortstop? On April 30, the Yankees did something similar. Yankee reliever Bryan Mitchell had come on to pitch a scoreless top of the ninth, with the Yanks down to the Orioles 4-2. The Bombers came back to tie it in the bottom of the inning.  In the top of the tenth, New York went to closer Aroldis Chapman, but instead of sending Mitchell to the bench, they moved him to first base. Chapman pitched a scoreless tenth.  Then, protecting the closer's arm (I assume), in the top of tjhe eleventh, Greg Bird came in to play first base and Mitchell went back to the mound. (Unfortunately, this  story does not have a Cinderella ending, Mitchell gave up three runs and took the loss.)
Surprise Player of the Season (So Far)
Brewers' 1B/OF/DH Eric Thames – a 30-year-old outfielder returning the MLB after three seasons in Korea – is one of the first surprises of the 2017 season. (We can expect plenty of surprises … good and bad … between now and October. That' why we love the game, isn't it?).  In reality, Thames' power stroke should not come as a total surprise.  (Although, he did hit just .263, with one home runs and five RBI in 22 Spring Training games.)
Thames – who played college ball in California for West Valley Community College and Pepperdine University (where, in 2008, he hit .407 with 13 round trippers) – was a seventh-round draft pick of the Blue Jays in 2008.  Thames showed his power potential in the Blue Jays' minor league system. In 2010, for example, he played in 130 games for Double A New Hampshire Fisher Cats and hit .288, with 27 home runs and 104 RBI.  He started the 2011 season with the Triple A Las Vegas 51s, hitting .342-6-30 in 32 games before a callup to Toronto.  He was up and down between Toronto and Las Vegas, finishing his first MLB season with a .262-12-37 line in 95 games. In 2012, he spent time with the Blue Jays and Mariners (he was traded to the Mariners in July), hitting .232, with nine roundtrippers and 25 RBI in 86 MLB games.  He then spent the entire 2013 season in the minors (the Mariners had acquired outfielders Raul Ibanez and Jason Bay in the off season) and was traded by Seattle to the Orioles on June 30, 2013.  The O's designated Thames for assignment in September and he was picked up by the Astros (who assigned him to Triple A Oklahoma City).
Thames then played in the Venezuelan Winter League, where he was scouted and signed by the NC Dinos of the Korean League.  Thames played in Korea for three season – hitting .348, with 147 homers and 382 RBI.  Oh yes, and tossed in 64 stolen bases.  He was the league's Most Valuable Player in 2015 – when he hit  .481-47-140, and swiped 40 bags.
In November of 2016, the Brewers signed Thames to a three-year 16 million dollar deal – which has been a bargain thus far – through April, his stat line was .345-11-19 – with 28 runs scored.
_______________________________________
Now the Stats
BATTING AVERAGE (among qualifiers)
NL:  Ryan Zimmerman, Nationals – .420; Justin Turner, Dodgers – .404; Bryce Harper, Nationals – .391.
AL: Avisail Garcia, White Sox – .368; Mike Trout, Angels – .364; Starlin Castro, Yankees – .352
The lowest April average, among players with at least 50 plate appearances, goes to the Yankee's Greg Bird at .107 (6-for-66). Another New Yorker, the Mets' Curtis Granderson has the lowest average (at least 50 plate appearances) for April in the NL at .128 (11-for-86).
HOME RUNS
NL: Eric Thames, Brewers – 11; Ryan Zimmerman, Nationals – 11; Bryce Harper, Nationals and Freddie Freeman, Braves – 9
AL: Khris Davis, A's – 10; Aaron Judge, Yankees – 10; seven with 7.
RBI
NL: Ryan Zimmerman, Nationals – 29; Bryce Harper, Nationals – 26; Daniel Murphy, Nationals – 26
AL:  Miguel Sano, Twins – 25; Nelson Cruz, Mariners – 23; Albert Pujols, Angels – 22
RUNS SCORED
NL: Bryce Harper, Nationals – 32; Eric Thames, Brewers – 28; Adam Eaton, Nationals – 24.
AL: Aaron Judge, Yankees – 23; Mitch Haniger, Mariners – 20; Francisco Lindor, Indians – 20
STOLEN BASES
NL: Billy Hamilton, Reds – 10; A.J. Pollock, D-backs – 10; five with seven
AL: Jarrod Dyson, Mariners – 8; Jose Altuve, Astros – 7; Lorenzo Cain, Royals and Jacob Ellsbury, Yankees – 6
WALKS DRAWN
NL: Paul Goldschmidt, D-backs – 22; Bryce Harper, Nationals – 22; Brandon Belt, Giants and Eric Thames, Brewers – 18
AL: Brad Miller, Mariners – 18; Miguel Sano, Twins – 18; Edwin Encarnacion, Indians – 17
STRIKEOUTS
NL: Trevor Story, Rockies – 39 (90 AB's); Jonathan Villar, Brewers – 37 (107 AB's); Kyle Schwarber, Cubs – 35 (93 AB's)
AL: Edwin Encarnacion, Indians – 35 (85 AB's); Danny Espisosa, Angels – 34 (88 AB's); Chris Davis, Orioles -33 (80 AB's);
—-PITCHING—-
ERA (qualifiers)
NL: Mike Leake, Cardinals – 1.35; Ivan Nova, Pirates – 1.50; Gio Gonzalez, Nationals – 1.62
AL: Erwin Santana, Twins – 0.77; Chris Sale, Red Sox – 1.19; Dallas Keuchel, Astros – 1.21
WINS
NL: Jeremy Hellickson, Phillies – 4-0; Hansel Robles, Mets – 4-0; Clayton Kershaw Dodgers (4-1); Wily Peralta, Brewers – 4-1
AL: Dallas Keuchel, Astros – 5-0; Erwin Santana, Twins – 4-0;  Phil Hughes, Twins – 4-1; Andrew Triggs, A's – 4-1
STRIKEOUTS
NL: Jacob deGrom, Mets- 44 (31 2/3 IP); Zack Greinke, D-backs – 40 (36 2/3 IP); Max Scherzer, Nationals – 40 (33 2/3 IP)
AL: Chris Sale, Red Sox – 52 (37 2/3 IP); Danny Salazar, Indian – 42 (29 IP); Yu Darvish, Rangers – 41 (38 2/3 IP)
OTHER SIDE OF THE COIN

WALKS ALLOWED: Wade Miley, Orioles  – 19 (31 IP) and Marty Perez, Rangers – 19 (31 2/3 IP).

HOME RUNS ALLOWED: Jered Weaver, Padres – 10 (28 2/3 IP).

ERA (minimum 20 innings): Josh Tomlin, Indians – 8.87  (23 1/3 innings). 
SAVES
NL: Greg Holland, Rockies – 11 (11 ops); Kenley Jansen, Dodgers – 7 (7 ops) Tony Watson, Pirates – 7 (7 ops)
AL: Craig Kimbrel, Red Sox – 8 (9 ops.); Brandon Kintzler, Twins – 7 (7 ops); three with six
STANDINGS – CLOSE OF PLAY APRIL 30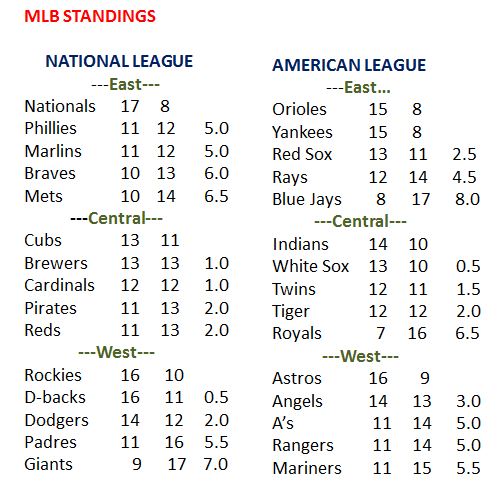 Follow and Like the Baseball Roundtable Facebook page.  More baseball commentary there – and, in mid-May, the start of some bobblehead give-aways.  (Beginning with Mariano Rivera and Derek Jeter bobbleheads.) 
I tweet baseball @DavidBBRT
Follow the Baseball Roundtable Facebook page.
Member:  Society for American Baseball Research (SABR); The Baseball Reliquary; The Negro Leagues Baseball Museum; Baseball Bloggers Alliance.