NEW YORK WORLD SERIES TRIVIA

Which New York center fielder – and future Hall of Famer – hit the first World Series home run in the original Yankee Stadium?
With the Yankees advancing to the AL Championship Series, I thought I'd focus this post on New York and the post season.  Particularly, Aaron Judge.  (And, of course, the trivia question at the top of this post – which will be answered later.)
First, let me make it clear, this is not Judge bashing.  The fact is, Judge is a true baseball "basher" and without his MLB rookie-record 52 home runs (particularly those 15 September blasts), the Bronx Bombers would not have found themselves in the playoffs. His .284-52-114 season – with a league-leading 128 runs scored and 127 walks – will certainly earn him AL Rookie of the Year honors and maybe even MVP.
Still, Judge has established himself (at least for 2017) as the King of Swing, This season Judge not only set a new rookie record for home runs, but also set a new rookie mark for strikeouts with 208 whiffs.  Along the way, Judge also set a new record (for positions players) for consecutive games with at least one strikeout (37) – tying the overall mark belonging to pitcher Bill Stoneman.
Then, during the just-ended five-game AL Division Series against the Indians, Judge set a new record for whiffs in a post-season series with 16 – breaking the old mark of 13 (held by a handful of players; more on that later). In the series (won by the New York club three-games to two), Judge had 20 at bats, with just one hit – .050 average), four walks and, of course, the 16 strikeouts.  Of those 16 K's, seven were looking and nine were swinging. Overall, in the five-game series, Judge was "credited" with 13 runners left on base.  Judge fanned six times on full-count offerings; seven times on a 2-2 pitches; twice on 1-2; and once on 0-2.
Wondering about the overall single-season post-season strikeout record?  That belongs to another Yankee – Alfonso Soriano.  In the 2003 post-season, Soriano played in 17 games (16-for-71) and fanned 26 times (six in the four-game ALDS; 11 in the seven-game ALCS and nine in the six-game World Series.
Now, for those who are interested in the previous record holders for strikeouts in a single post-season series (don't worry, we'll get to that trivia question), here they are:
—Sixteen K's on the Big Stage—
Ryan Howard, Phillies, 2009 World Series
The mark of 13 strikeouts in a single post-season series was first reached by Phillie' slugging 1B Ryan Howard. It came in the 2009 World Series, which the Phillies dropped to the Yankees four-games to two. In the six games, Howard went 4-for-23 (.174), with two walks, one home run, three RBI – and, of course, 13 strikeouts. On the season, Howard had gone .279-45-141 in 160 games.
—The 2013 AL Division Series – Two 13-strikeout "Performances"—
Austin Jackson, Tigers, 2013 ALDS
Tigers' CF Austin Jackson picked up 20 at bats in the 2013 ALDS (won by Detroit three-games to two) – fanning 13 times, while getting two hits (.100 average), one walk and one RBI.  On the season, Jackson had gone .279-12-49 in 129 games.
Brandon Moss, A's, 2013 ALDS
Sitting in the opposite dugout from Austin Jackson was A's 1B/DH Brandon Moss – who matched Jackson whiff-for-whiff. In five games, Moss collected 18 at bats, two hits (.111 average) one home run, one RBI and three walks.  On the season, Moss went .256-30-87 in 145 games.
—Another World Series with 13 K's—
Javier Baez, Cubs, 2016 World Series
As the Cubs beat the Indians four-games to three in 2016 World Series. 2B Javier had 30 at bats and five hits (.167 average) to go with one home run, one RBI and his 13 strikeouts. On the season, Baez went .273-23-75 in 145 games.
_______________________________________
Okay, now to that trivia question.
What New York center fielder – and future Hall of Famer –  hit the first World Series home run in the original Yankee Stadium?  

On October 10, 1923 New York Giants' center fielder Casey Stengel hit the first-ever post-season home run in the original Yankee Stadium (and the first-ever nationally broadcast World Series home run) – with a ninth-inning, game-winning, inside-the-park round tripper that  gave the Giants a 5-4 win over the Yanks. Note: Stengel was in his 12th MLB season and had hit .339 in 75 games for the Giants during the regular campaign.
For my generation, the slightly eccentric Charles Dillon Stengel, whom we knew as "The Old Professor" (Okay, "slightly" eccentric is an understatement.), is forever linked to the Fall Classic.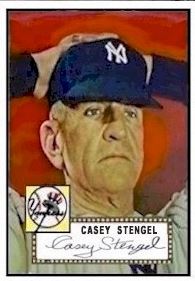 Stengel made his World Series' (and HOF) reputation as a manager – leading the New York Yankees to ten American League pennants and seven World Series Championships – with all that success coming in a span of 12 seasons (1949-60). The seven World Series titles ties Yankee skipper Joe McCarthy for the most by any manager – and Stengel is the only manager to capture five consecutive World Series titles (1949-53). Notably,  Stengel was let go by the Yankees after managing the Bronx Bombers to the 1960 AL pennant, but losing the World Series in seven games to the Pittsburgh Pirates. The WS loss came despite the Yankees outscoring the Pirates 55-27 over the seven games. For the full story of the exciting 1960 Fall Classic, click here.
I'll never make the mistake of turning 70 again.

The 70-year-old Casey Stengel's comment after being released by the Yankees after managing the team to the 1960 AL pennant and a seven-game loss in the World Series.  As a 70-year-old myself, I find this quote a bit close to home.
It should be noted that Stengel's 12-season run of success with the Yankees was sandwiched in the middle of a 25-season managerial career (Dodgers, Bees/Braves, Yankees, Mets – in that order). Stengel's overall managerial record was 1,905-1,842, and he had only one winning season outside that 12-year Yankee stretch (77-75 with the 1938 Boston Bees).
What is sometimes lost when considering Stengel's MLB career is his record as a player – and those years also had World Series implications. Stengel played in three Fall Classics – hitting .393 with two home runs and four RBI in 12 games. In his final World Series as a player – with his New York Giants facing the Yankees – Stengel hit .417 (five-for-12 with four walks and no strikeouts), with two home runs, three runs scored and four RBI in six games. He led the Giants (who lost the Series four-games to two) in batting average, runs scored (tied) home runs and RBI. (The rest of the Giants' squad hit .222 versus the Bombers' pitching._
In 14 seasons as an MLB outfielder, Stengel hit .284with 60 home runs, 535 RBI and 131 stolen bases in 1,277 games. His best season was 1914, when Stengel hit .316 (led the NL in on-base percentage at .404), hit four home runs, drove in 60 and stole 19 bases.
Primary sources:  MLB.com; Baseball-Reference.com; Society for American Baseball Research.
I tweet baseball @DavidBBRT
Follow/Like Baseball Roundtable's Facebook page here.
Member: Society for American Baseball research (SABR); The Baseball Reliquary; The Negro Leagues Baseball Museum.