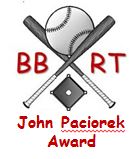 In 2014, BRT launched its own baseball recognition – The John Paciorek Award (JPA). The JPA recognizes players who have had short, most often very short, major league careers, but whose accomplishments, nonetheless, deserve recognition.  (Note: Information on John Paciorek's career – the inspiration for the JPA – can be found at the end of this post. Paciorek's day in the sun constitutes arguably the best one-game MLB career ever.)
________________ 2017 JPA Winner – Chris Saenz _______________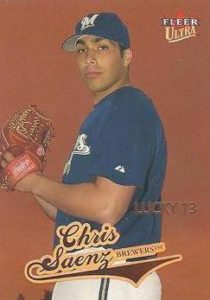 This year, BBRT honors right-handed pitcher Chris Saenz with the JPA – for making his one-game stint on the MLB pitcher's mound truly memorable. Saenz' big day came on April 24, 2004 and was made possible by a combination of an injury to Brewers' starting pitcher Chris Capauno, an overworked Brewers' bullpen and the fact that Saenz had started at Double A five days earlier, so a spot start for the Brewers would keep him on his pitching schedule. It was, in a way, the perfect storm for an unexpected MLB debut.
Saenz – a Brewers top-30 prospect in his fourth pro season – was called up from Double A Huntsville (where he was 1-1, 3.86) to make a spot start against the Saint Louis Cardinals, whose powerful lineup included the likes of Albert Pujols, Scott Rolen, Jim Edmonds and Reggie Sanders.  (The Cardinals would lead the NL in runs scored, batting average and finish second in home runs that season, while making it to the World Series.) Let's look at how things went for Saenz, before we examine how the 6'3", 200-pound righty worked his way to the mound that day – and the factors that made it his only MLB appearance.  
The first MLB batter Saenz faced was Cardinal second baseman Bo Hart and the Milwaukee pitcher got his MLB career of to a good start, fanning Hart (swinging) on three pitches. (No surprise there, Saenz consistently struck out more than a batter per inning in the minors.) Saenz then seemed to pick up a minor case of MLB-debut jitters, sandwiching a single and a pair of walks around a foul pop out, before getting Redbirds' SS Edgar Renteria to fly out – ending a shaky, but scoreless, first big league inning.
When he came out for the second, Saenz seemed to have settled down and found his proverbial groove. He recorded a 1-2-3 second, with two strikeouts.  In the third, the only batter to reach was Pujols (hit by pitch) and Saenz picked up a fourth strikeout. The Cardinals went down in order in the fourth and fifth innings, with  Saenz notching two more strikeouts.  Pujols managed a single off Saenz in the sixth, but was the only base runner in the inning. Saenz walked Renteria (on a 3-2 pitch) to open the seventh – and his first day (and career) in the majors was done.
Not a bad day's work (yes, it was a day game) for a raw rookie: six innings pitched, two hits, three walks, no runs and seven strikeouts.  For those who track such things, Bo Hart faced Saenz three times that day (first, third and fifth innings) and struck out swinging all three times.  Two was a lucky number for Saenz, as the Brewers scored two times (on two hits) in the first inning to ensure Saenz the win (Milwaukee 3 – St, Louis 1); Hart, Saenz' most frequent strikeout victim was playing at the two-bag for the Cardinals; and the game was played in front of an announced attendance of 22,222 fans.
A ONE-OF-A-KIND …  SINGLE-GAME CAREER …  PERFORMANCE

While statistics before 1900 can be sketchy, baseball-reference.com shows that Saenz is the only pitcher to complete a one-game MLB career of at least five innings pitched, without giving up a single run (earned or unearned). Five pitchers before 1900 had one-game careers of at least five innings that resulted in a 0.00 ERA, but they all (Jack Keenan, Frank Kreeger, Clay Fauver, George Snyder and George Stultz) gave up unearned tallies in those efforts.
There was some speculation (primarily among sportswriter and fans) that Saenz' performance might earn him another start or two, but two days after his debut, he was on his way back to Huntsville.  For the year at Huntsville, he went 5-5, 4.15 with 84 strikeouts in 84 2/3 innings. Unfortunately, his season included a September elbow injury that required Tommy John surgery and set his career back (eventually ending it.)
So, how did Saenz earn his day in the major leagues? He was signed by the Brewers (28th round of the 2001 Major League Draft) out of Pima Community College in Tucson Arizona.
Saenz started his pro career (at age 19) with the Pioneer (rookie) League Ogden Raptors.  He showed solid potential, appearing in 21 games (four starts) and going 3-1, 4.24 with 14 walks and 48 strikeouts in 46 2/3 innings.  His ability to fan at least a batter an inning would be a trademark of his professional career. In 2003, Saenz moved up to the Low A Beloit Snappers of the Midwest League – where he pitched 37 games (all in relief) and went 3-5, with eight saves and a respectable 3.51 ERA. He did walk 32 batters in 74 1/3 innings, but his 99 strikeouts (12 per nine innings) were impressive. The following season (2003) saw Saenz work primarily as a starter (26 starts in 27 appearances) mostly with the High A High Desert Mavericks of the California League – although he did get in one game with the Double A Huntsville Stars of the Southern League. Saenz went 9-9, 5.04, working on command issues (59 walks in 134 innings), but maintained his bat-missing stuff (142 strikeouts).
Then came 2004, his early season call up to the Brewers, his return to Huntsville and his Tommy John surgery.  After missing the 2005 and 2006 seasons, Saenz attempted a comeback,  signing with the Angels in 2007 and playing with the  Arkansas Travelers of the Double A Texas League – where things did not go well (1-7, with an 8.41 ERA and 31 walks versus 24 strikeouts in 46 innings). The Angels released Saenz and he finished the season with the Reno Silver Sox of the Independent Golden Baseball League, where he found more frustration – 0-4, 8.10 with 16 walks and 22 strikeouts in 26 2/3 innings.  Saenz gave it one last try in 2008, with the independent Northern League Schaumburg Flyers, where he went 1-1, 8.42, with 15 walks and 18 whiffs in 25 2/3 innings.  He retired from professional baseball at the age of 26.  Still, Saenz is one of the fortunate few to have their day in the major league sun – and to have proven on that day that he truly belonged.
________________________________________________________
PAST JOHN PACIOREK AWARD WINNERS:
2014 – Brian Scott Dallimore
In his first start (not his first game) for the 2004 Giants, Dallimore had two singles, a Grand Slam (his first MLB hit and only MLB home run), a walk and a hit by pitch.  For the full JPA take on Dallimore's 27- game MLB career, click here.
2015 – Roy Gleason
Gleason played in just eight MLB games, had a double in his only MLB at bat – but also earned a World Series ring (1963) and a Purple Heart. Ultimately, he was the only ballplayer with MLB experience to serve on the front lines in Vietnam. For the full JPA take on Gleason, click here. Note: Gleason's life is detailed in the book "Lost in the Sun – Roy Gleason's Odyssey from the Outfield to the Battlefield."
2016 – John Allen Miller
Miller played just 32 MLB games (during the 1966 and 1969), taking the field (at 1B/LF/3B/2B) for the Yankees and Dodgers. Miller collected ten hits in 61 MLB at bats (.164 average) and hit just two home runs – but he made those long balls count.  Miller made his MLB debut with the Yankees on September 11, 1966 and hit a two-run homer in his first big league at bat –  making him (surprisingly) the first Yankee ever to homer in his first MLB at bat. (Little did Miller know he would not get another home run or RBI until the final at bat of his MLB career.)  Miller's final at bat came as a Dodger (September 23, 1969) and he stroked a solo home run.  That narrow "body of work" made Miller one of just two players in MLB history to homer in their first and final official appearances in a major league batter's box. For more on Miller, click here.
INSPIRATION FOR THE JPA

John Paciorek – signed out of Saint Ladislaus High School in Hamtramck, Michigan (where he had starred in football, basketball and baseball) – appeared in his first major league game on the final day of the 1963 season (September 29) at the age of 18.  The 6' 1", 200-pound outfielder had spent the 1963 season with Class A Modesto Colts. The Colts' parent club, the Houston Colt .45s (that was the current Astros' franchise name back then), was suffering through a difficult season. The team was 65-96 going into that final game.  Looking to the future, Houston had, in fact, fielded an all-rookie lineup (average age 19) on September 27. Youth was still being served two days later when John Paciorek started his first MLB game. The results were surprising – and worthy of recognition.

Paciorek, by the way, went on to become a high school teacher and multi-sport coach and is the author of two books (Plato and Socrates – Baseball's Wisest Fans and The Principles of Baseball: And All There Is To Know About Hitting.) You also can enjoy Paciorek's prose (and expertise) directly at his blog "Paciorek's Principles of Perfect Practice" by clicking here. You can find out even more about Paciorek in Steven Wagner's 2015 book "Perfect: The Rise and Fall of John Paciorek, Baseball's Greatest One-Game Wonder."  (See the review of "Perfect" by clicking here.)

A final note. John Paciorek's insight into the national pastime should come as no surprise. Paciorek comes from a true "baseball family."  He was the first born of eight siblings and was followed to the big leagues by younger brothers Jim and Tom Paciorek.  (Like John, Jim's MLB career was short – 48 games for the Brewers in 1987. Brother Tom, however, achieved a .282 average over an 18-season MLB career.)
For more baseball – and notification of new blog posts – Follow and Like the Baseball Roundtable Facebook page; link here.  Also, bobblehead giveaways soon to come. 
I tweet baseball @DavidBBRT
Member: Society for American Baseball Research; The Baseball Reliquary; The Negro Leagues Baseball Museum; Baseball Bloggers Alliance.