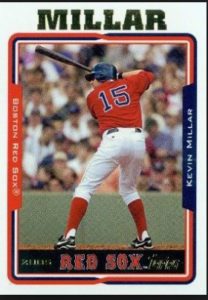 Kevin Millar is an independent league baseball success story – going from an undrafted college ball player suiting up with the independent league St. Paul Saints to the starting third baseman for the curse-breaking 2004 World Series Champion Red Sox – and back again (to put a long ball exclamation point on his playing career).
Sasturday night (June 24), the independent American Association St. Paul Saints were celebrating their 25th anniversary (the franchise began in 1993 as a member of the independent Northern League). That year also marked: the franchise's first-ever league championship; the beginning of its reputation for box office success (driven by out-of-the-box promotions and positive on-field results); and Kevin Millar's first professional season.
Saturday evening, many of the same factors that shaped the first Saints' season again came into play.  The Saints were in first place and they were celebrating their 25th anniversary with a game against the second-place (and defending champion) Winnipeg Goldeyes and a Kevin Millar/Bill Murray (co-owner) bobblehead giveaway.  In addition, the 45-yerar-old Millar – perhaps the Saints most visible success story and now co-host of the MLB Network show Intentional Talk – was back in uniform under a one-game contract.  As with most Saints promotions, this one went just fine.  The salt-and-pepper bearded Millar – facing live pitching for the first time in seven years – smacked a two-run home run to deep left in the bottom of the second inning. Earning a standing ovation in what was most likely his final professional at bat. Unless, of course, the Saints bring him back for their fiftieth anniversary.
The big fly, of course, made big news – from the Twin Cities Media to ESPN.  Who am I not to jump on the bandwagon.  So, this post will take a look not only at how Millar went from the Saints to the (World) Series and back again – but how he got to the Saints in the first place.
KEVIN MILLAR'S LONG AND WINDING ROAD
So, how did Millar get to last night's heroics?   His road from the Saints to the World Series and back was long and winding highway.
As a teenaged who did not generating interest from MLB or four-year schools after playing for University High School in Los Angeles, Millar started his college career (without a scholarship) at Los Angeles City College (two-year school).  While his numbers were solid, they again didn't generate MLB draft interest – but did earn him a basebalk scholarship to Lamar University, where Millar put up a .306-13-50 line (53 games) in his junior year, earning All Sun Belt Conference recognition.   As a senior he hit .324, with five home runs and 54 RBI (62 games).
Still, major league teams did not come calling and – after again going undrafted – Millar signed with the independent St. Paul Saints (Northern League) for the 1993 seasons.  In September of that season, Millar's performance and "never give in" attitude helped earn him a spot in the Florida Marlins' system.  Millar was sold (along with two other Saints players) to the Marlins for $5,000 – and he was one his way.  In 1994, Millar put up a .302-19-93 line with the Kane County Cougars of the Class A Midwest League.  By 1996, he was with the Double A Eastern League Portland Sea Dogs, where his .318-18-86 line. He was back iu Portland the following season, hitting .342-32-131 and earning him Eastern League Player of the Year honors.  And, in 1999, he was in the Pacific Coast League (AAA) with the Calgary Cannons (.301-7-26 in 36 games) – also making a splash in the National League with the Marlins (.285-9-67 in 105 MLB games). Note Millar also made a two-game, two-at bat, one-hit appearance with the Marlines in 1998. Along the way to the big leagues, Millar earned a reputation for steady grit and determination, a positive attitude and a sense of humor. Nothing changed once he put that big league uniform on.
Kevin Millar reached based safely in 71 straight minor league games over the 1997-99 seasons. 
Ultimately, Millar played in 1,427 ML games over 12 seasons – hitting .274, with 170 home runs and 699 RBI.  His best year was 2003, with the Boston Red Sox, when he went .276-25-96 in 148 games.  And, as the starting third baseman for the World Champion Red Sox in 2004, he put up a .297-18-74 line.  Not bad for a player who had difficulty garnering a college scholarship and went undrafted by major league teams multiple times.    In addition, Millar played in 28 post-season games with the Red Sox, hitting.242, with two home runs, 11 runs scored and ten driven in.  Throughout his career, Millar was known as a hard worker with a big personality.  He was a fan favorite and a positive off- and on-field influence wherever he played.  (Millar is credited with bringing a never give up attitude and the concept of "Cowboy Up" to the Red Sox' curse-shattering 2004 World Championship team.)
On August 9. 2003, Kevin Millar hit the 10,000th home run in Fenway Park – a two-run shot thats provided the margin in the Red Sox 6-4 win over the Orioles.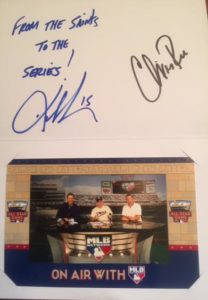 After being released by the Cubs in March of 2010, Millar announced his retirement and accepted a position as an analyst with the MLB Network, but he gave on-field action one more shot – returning to the Saint Paul Saints and getting into six games in 2010.  He did not take the field professionally again, until Saturday's now "viral" home run.  Note:  In interviews after Saturday's game, Millar said he returned to the Saints in 2010 not just to take one last shot at playing, but to encourage players chasing their dreams in the independent leagues. "Without the Saints, I would have never been a big leaguer.  I was just a regular guy – but if you believe in something go for it."
I was lucky enough to get to meet Millar when I was volunteering at the 2014 All Star Game FanFest and three things were very clear, he loves the game, he is definitely fan-friendly and he continues to appreciate his time with the Saints (and the fact the fans here in the Twin Cities still remembered him fondly).
Kevin Millar clearly was the kind of player who would not be denied – and Saturday night's long ball is just another example of what you can accomplish if you are willing to "put it all out there."
Congrats to Millar on a career that saw him reach the World Series – and a Saturday night in Saint Paul that saw him reach the left field seats.
I tweet baseball @DavidBBRT
Follow/Like Baseball Roundtable's Facebook page here.  Baseball commentary, blog post notifications and giveaways.
Member: Society for American Baseball Research (SABR); The Baseball Reliquary; The Negro Leagues Baseball Museum; Baseball Bloggers Alliance.