Looking at this year's ballot – 36 players, 19 first-timers – the choices may be difficult, with each voter allowed to vote for a maximum of ten players.  We can expect some writers to hold back votes from players suspected of PED use (seem like a legitimate reason), others will hold back votes to make a statement on "what it takes to be a first-ballot" inductee (less legitimate, but understandable) and still others may send in blank ballots (for no apparent reason). In this column, I will focus on how BBRT would cast its ten votes (if BBRT had a ballot) and BBRT's predictions for the actual outcome.  I'll start with a "short" version of BBRT's selections and predictions – and then go on to a more detailed explanation of the reasons for BBRT's choices.
BBRT's Hall of Fame Selections – if I had a vote – In Priority Order
Group One – Should Be No Doubt
1. Greg Maddux – 355 wins, four consecutive Cy Youngs, 18 Gold Gloves
2. Tom Glavine – 304 wins, two Cy Youngs, four Silver Sluggers
3. Frank Thomas – One of only seven members of 500-HR/.300 average club, two-time MVP
4. Craig Biggio – 3,060 hits, 1,884 runs scored, 291 HRs, 414 steals
Group Two – Debatable, But Clearly Deserve Suppor
5. Lee Smith – 478 saves, third all time
6. Jeff Kent – Most home runs by any second baseman, nine more RBI than Mickey Mantle, 2000 NL MVP
More Debatable, But Would Get BBRT's Vote
7. Mike Piazza – .308 career average, most home runs by a catcher, 12-time All Star, benefit of the doubt on PEDs.
8. Jeff Bagwell – 449 HRs, 202 steals, 1,529 RBI, 1991 NL Rookie of the Year, 1994 NL MVP, twice recorded seasons of 40 or more HRs and 30 or more steals
9. Tim Raines – 808 stolen bases (fifth all time), 2,605 hits (.294 career average), 1,571 runs scored.
10. Jack Morris* – 254 wins, most wins in 1980s, "big game grit" LAST YEAR ON THE BALLOT (and I was at his 1991 World Series Game 7 10-inning shutut).
*If it wasn't Morris' last year on the ballot, Mike Mussina and his 270 wins would get this vote.
BBRT Predictions as to Whom the Baseball Writers Vote In
BBRT projects that the BBWAA, being notoriously stingy with their votes will elect Greg Maddux, Tom Glavine, Frank Thomas and Craig Biggio from this "crowded with talent and newcomers" ballot.  Jack Morris has an outside chance of getting a "last year on the ballot" bump, but there continues to be enough debate on his "Hall-worthiness" to keep him on the outside.
Big names strongly connected with the PED issue, like Barry Bonds, Roger Clemens, Mark McGwire and Sammy Sosa are likely to remain on the sidelines, as emotions related to PED-use run high. Even hints of PED suspicion could cut into vote totals for other BBRT-supported candidates like Mike Piazza. Some analysts even speculate that Frank Thomas is in danger of falling short just because he is big and hit a lot of home runs (there isn't even a hint of PEDs), couple that with first-ballot prejudice and he does face a challenge (BBRT thinks he will squeak in.)
Mike Mussina is likely to denied because of Maddux' and Glavine's presence, and the view among some voters that first-ballot selection is reserved for the very few.  Jeff Kent is another likely first-ballot prejudice victim.
A few players who seem to be heading in the right direction in terms of support include Mike Piazza, Jeff Bagwell and Tim Raines.  Among the bigger names who may see support waning  – Lee Smith, Alan Trammel, Fred McGriff, Edgar Martinez.
A More Detailed Look at BBRT's Selections from This Year's HOF Ballot
Should Be Undebatable  Shoo-Ins
BBRT believe this first group of players all have a combination of milestone achievement and character that should make their 2014 Hall of Fame induction undebatable. (We know that won't happen.)
Greg Maddux (RHP, 1986-2008 – first time on ballot)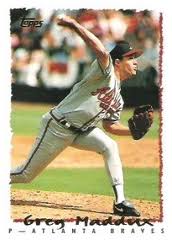 Nicknamed "The Professor" for his studious demeanor and ability to take hitters "to school," Greg Maddux brings to the ballot a 23-year career, 355 wins (#8 all-time) versus 228 losses, a 3.16 lifetime ERA, 3,371 strikeouts, four consecutive NL Cy Young Awards (1992-95) and an MLB-record 18 Gold Gloves.  During his four-year run as NL Cy Young Award winner, Maddux went 75-29, with a 1.98 ERA. Twice a 20-game winner, Maddux was an eight-time All Star, led the NL in wins three times, winning percentage twice, ERA four times (with a career best of 1.56 in 1994), complete games three times, shutouts five times and innings pitched five times.  He also notched a record 17 consecutive seasons of 15 or more victories.  Maddux made 35 post-season appearances (30 starts), going 11-14, with a 3.27 ERA.
Clearly, on statistics alone, Maddux crosses every "t" and dots every "i" in milestone achievements for Hall of Fame selection.  Maddux also played with game with a quiet, but confident, dignity – which, when coupled with his performance, makes him a deserving player not only for first-ballot selection, but to break the unanimous selection barrier.  (Although you can bet there will be some unexplainable holdouts.) Maddux pitched for the Chicago Cubs (1986-92; 2004-06), Atlanta Braves (1993-2003); Los Angeles Dodgers (2006, 2008); and San Diego Padres (2007-08.)
Greg Maddux' best season: 1995 Atlanta Braves … 19-2 (league-leading wins), 1.63 ERA (league low), league-leading ten complete games, league-leading three shutouts, league-leading 209 2/3 innings pitched, and 23 walks versus 181 strikeouts.  Cy Young Award.
Tom Glavine (LHP, 1987-2008 – first time on ballot)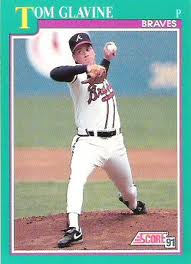 Like Maddux, Glavine topped the milestone 300-win mark, going 305-203 (#21 all time in wins), with a 3.54 ERA in a 22-year MLB career.  Glavine was a ten-time All Star, two-time Cy Young Award winner (1991 and 1998).  He won twenty or more games five times, led the NL in victories five times, complete games once, shutouts once and games started six times. He also captured four Silver Slugger Awards as the NL's top hitting pitcher.  Glavine made 35 post-season appearances, all starts, going 14-16, with a 3.30 ERA.
It would be fitting for Glavine and Maddux to go into the Hall together, not only did their careers overlap, but from 1993-2002 they were teammates and number-one and two starters for the Atlanta Braves.  During that time, Maddux went 178-77, while Glavine was 169-83. Glavine pitched for the Atlanta Braves (1987-2002, 2008) and New York Mets (2003-07).
Tom Glavine's best season: 1998 Atlanta Braves …. League-leading 20 wins (versus 6 losses), 2.47 ERA.  Cy Young Award.
Frank Thomas (1B/DH, 1990-2008 – first time on the ballot)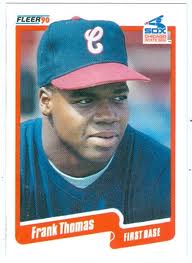 Nicknamed "The Big Hurt" because of the damage the 6' 5", 240-pound slugger could do to a baseball, Frank Thomas (like Maddux and Glavine at the top of this list) put up some milestone numbers.  Most important, at least to BBRT, is his status as one of only seven players to date to amass 500 home runs with a .300+ career batting average. That list is pretty elite – Thomas, Babe Ruth, Jimmie Foxx, Ted Williams, Hank Aaron, Willie Mays, and Manny Ramirez.  BBRT note: Albert Pujols is sure to join this fraternity, now standing at 492 HRs and a .321 average; and Alex Rodriguez is on the cusp with a .299 average and 654 homers. Thomas' Hall of Fame resume includes 521 homers (#18 all time), a .301 career average, 2,468 hits, 1,704 RBI (#22 all time), 1,494 runs and 1,667 walks (#10 all time). Thomas was a two-time AL MVP (1993 & 1994), five-time All Star and captured one HR and one batting title in his 19-year career.  He hit .224, with three homers and five RBI in 16 post-season games.  Thomas played for the Chicago White Sox (1990-2002), Oakland Athletics (2006, 2008) and Toronto Blue Jays (2007-09).
Thomas may lose a few votes among "alleged purists" for his time at DH – but BBRT believes the company he keeps as a member of the 500 HR, .300+ average club makes him a worthy first-ballot Hall of Fame electee.
Frank Thomas' best season: 1996 Chicago White Sox… 141 games, 184 hits, .349 average, 40 home runs, 134 RBI, 110 runs, 109 walks, league-leading 26 intentional walks.
Craig Biggio (2B/C/OF, 1988-2007 – second time on the ballot)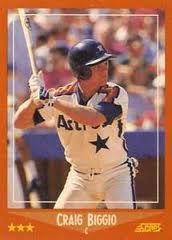 Craig Biggio – with his 3,060 career base hits (#21 all time) should have been elected last year.  In his 20 MLB seasons, Biggio scored 1,884 runs (15th all time), hit 291 home runs and stole 414 bases.  He was a seven-time All Star and a four-time Gold Glove winner, who spent notable time at second base, catcher and in the outfield.  He led the NL in runs twice, doubles three times, stolen bases once and hit-by-pitch five times.  His 668 doubles are the most ever by a right-handed hitter (and fifth all time) and he is one of only two players to collect 50 doubles and 50 stolen bases in the same season.  He holds the NL record for home runs to lead off a game (53) and for hit-by-pitch (285).  Biggio played his entire 18-year MLB career with the Houston Astros.
It's a year late, but Biggio should win election this time around.
Craig Biggio's best year:  1998 Houston Astros – 160 games,  .325 average , 210 hits, 123 runs, 20 HRs, 88 RBI, league-leading 51 doubles, 50 stolen bases.
Deserving Candidate Who Also Would Get BBRT's Vote (If I had one)
This next group of candidates consists of players whose entrance into the Hall of Fame might prompt some discussion and debate – but when the discussion is done, BBRT is confident they will be seen as deserving of election.
Lee Smith (RHP, 1980-97 – 12th time on the  ballot)
Lee Smith's 478 saves put him third on the all-time list (he was number one when he retired after the 1997 season).  He recorded 13 consecutive seasons (in an 18-year career) of 25 or more saves, a 3.03 lifetime ERA and 1,251 strikeouts in 1,289 innings pitched; led his league in saves four times; and made seven All Star teams. Smith pitched for the Chicago Cubs (1980-87); Boston Red Sox (1988-90); St. Louis Cardinals (1990-93); New York Yankees (1993); Baltimore Orioles (1994); California Angels (1995-96); Cincinnati Reds (1996); Montreal Expos (1997).
With the third most saves all time, Smith gets BBRT's vote.
Lee Smith's best season:  1991, Cardinals – 6-3, 2.34 ERA, 47 saves, 73 innings pitched, 67 strikeouts.
Jeff Kent (2B/3B/1B, 1992-2008 – first year on the ballot)
Kent will probably be hurt by those writers who maintain you must be "extra" deserving to get a first-ballot vote, but BBRT believes Kent is a deserving candidate.  Kent holds the all-time MLB record for home runs by a second baseman (351 of his 377 career round trippers were hit while playing second base). He has a healthy .290 career batting average and his 1,518 RBI are 49th all time (for perspective, Kent drove in 9 more runs than Mickey Mantle). Kent was a five-time All Star, four-time Silver Slugger winner and 2000 NL MVP.  He hit .276, with nine home runs and 23 RBI in 49 post-season games.
Kent has the credentials, but BBRT has a hunch the writers will make him wait a year or two – a couple of Gold Gloves would have really helped his first-ballot case.
Jeff Kent's best season: SF Giants, 2000:  159 games, 196 hits, .334 average, 33 home runs, 125 RBI, 114 runs, 12 steals. NL MVP.
More Debatable, But Would Still Get BBRT's Vote
More debate is likely to swirl around this group.  They may be on the cusp when it comes to election (some for this year, some overall); but BBRT would use all ten votes.
Mike Piazza (C, 1992-2007 – Second year on the ballot)
Mike Piazza's stat sheet includes a .308 career average, 427 home runs (a MLB record 396 as a catcher), a Rookie of the Year Award, 12 All Star Selections and ten Silver Slugger selections as the best hitter at his position. Over his career, he collected 2,127 hits, 1,335 RBI and scored 1,048 runs. He hit .242, with six home runs and 15 RBI in 32 post season games.
There are some PED rumblings surrounding Piazza's candidacy that may cost him some votes, but BBRT gives Piazza the benefit of the doubt (and believes his comments and contrition).
Piazza's best year: 1997, Dodgers – .362 avg., 201 hits, 104 runs, 40 HR, 124 RBI.
Jeff Bagwell (1B, 1991-2005 – 4th year on the ballot)
Jeff Bagwell earned Hall of Fame consideration with a 15-year career that included 2,314 hits, 449 home runs, 202 stolen bases and a .297 average – along with a Rookie of the Year Award, a Most Valuable Player Award, one gold Glove and four All Star selections.  He also twice recorded seasons of 40 or more homers and 30 or more steals. Bagwell chances are hurt a bit by the fact that first base has been manned by so many power hitters over time.  Bagwell played his entire career with the Houston Astros.
BBRT would vote for Bagwell, but doubts he will capture 75 percent of the vote in this very competitive year.
Bagwell's best season:  2000, Astros – .310 average, 183 hits, 152 runs, 132 RBI, 47 home runs.
Tim Raines (OF, 1979-2001 – 7th time on the ballot.)
Tim Raines hit .294 over his 23-season MLB career, collecting 2,605 hits, 1,571 runs scored, 170 home runs, 980 RBI and 808 stolen bases (#5 all time).  Raines was a seven-time All Star, led the NL in stolen bases four consecutive years (1981-84) had a streak of six seasons with at least 70 steals, won the NL batting title in 1986 with a .334 average, led the league in runs scored twice and doubles once. In 34 post-season games, he hit .270 with one home run, six RBI, 18 runs scored and three steals.
More debatable than Piazza or Bagwell, but Raines would get BBRT's vote.
Raines' best season: BBRT did not select Raines' 1986 batting title year, but rather his 1983 season with the Expos … 156 games, 179 hits, .298 average, league-leading 133 runs scored, 11 homers, 71 RBI, league-leading 90 steals.
Jack Morris (RHP, 1977-94 – 15th and final year on the ballot)
The fact that Morris is in his last year on the ballot (and earned 2/3 of the vote last year) should work in his favor. Morris went 254-189, with a career 3.90 ERA (that may hurt him).  He led the AL in wins twice, logged three 20+ win seasons was a five-time All Star. He won more games (162) than any other pitcher in the decade of the 1980s – finishing 22 wins ahead of Dave Steib (who won the second most at 140). In seven World Series starts, Morris went 4-2, 2.96 with three complete games (including a ten-inning shutout in game seven of the 1991 Series). He also went 3-2, 4.87, with two complete games in six ALCS starts). Morris pitched for the Detroit Tigers 1977-90); Minnesota Twins (1991);  Toronto Blue Jays (1992-93); and Cleveland Indians (1994).
BBRT see Morris' 254 wins as just enough, thinks Morris has waited long enough, believes his big-game-grit is enough to put him over the top. Plus, I was at Game Seven in 1991 to witness his ten-inning shutout performance, so BBRT's endorsement comes from the heart as well as the head.
Morris' best season: 1986, Tigers – 21-8, 3.27 ERA, 15 complete games, six shutouts, 267 innings pitched, 223 strikeouts.
Final Thought On A Player Who Just Missed BBRT's List
Mike Mussina (RHP, 1991-2008 – first year on the ballot)
It's a tough year to be Mike Mussina and making your first appearance on the Hall of Fame Ballot.  "Pitchers'" votes are likely to go to the two 300+ win hurlers (Maddux and Glavine) who are also on the ballot for the first time, and you can expect Jack Morris to gain some momentum in his last year on the ballot.  The writers are likely to ask Mussina to wait, as would BBRT.  Mussina brings a 270-153 record and a career 3.68 ERA to the voting. While only a 20-game winner once (in his final season, at age 39), Mussina won 18 or 19 games five times, leading the AL with 19 wins in 1995. He was a five-time All Star and a six-time Gold Glove winner. While the lack of a Cy Young Award on his resume may hurt him, he finished his career 117 games over .500 – and every eligible pitcher who finished their careers 100 or more games over .500 has made it to the Hall. Look for his wait to be short.
BBRT invites your comments on the 2014 Hall of Fame election.
I tweet baseball @