Yesterday, May 21, 2013, Mike Trout of the Angels became the youngest American Leaguer (21-years-old) to hit for the cycle (Could this final wake up the lagging Angels).  He now has plenty of time ahead to reach the MLB records of two cycles in a season and three in a career.  In honor of Trout's achievement, BBRT looks at some "cycling records."
 Youngest major leaguer ever to hit for the cycle – The New York Giants' Mel Ott – age 20 – on May 16, 1929.

Oldest major league to achieve the cycle – the Angels' Dave Winfield – age 39 –  on June 24, 1991.

The record for cycles in a career is three, shared – appropriately – by three players:  Bob Meusel, Babe Herman and John Reilly,

Only four players have hit for the cycle twice in a season, including the Diamondbacks Aaron Hill just last year.  The others: Tip O'Neill, Babe Herman and John Reilly.
A "natural cycle" – single, double, triple, homer in order – has been achieved 14 times.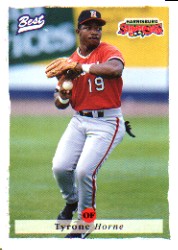 Finally, BBRT would like to revisit a one-time-only cycle event that we touched on in a posting last season. On July 27, 1998, Tyrone Horne of the Double-A Arkansas Travelers hit professional baseballs only "home run cycle" – banging a solo home run, two-run homer, three-run homer and a grand slam in a single game (a 13-4 road victory over the San Antonio Mission.) 
Horne, at the time, was in the midst of a stellar minor league season in which he would go .313 with 37 home runs, 140 RBI, 95 runs scored and even throw in 18 stolen bases.  Immediately after the historic game, Horne headed off to the Texas League All-Star Game where he won the Home Run Derby.  Horne, by the way, never made it to the major leagues – completing a 13-year (1,286 game) minor league career with a .288 average and 143 home runs.  The bat he used that historic day, however, has made it to the Baseball Hall of Fame in Cooperstown.