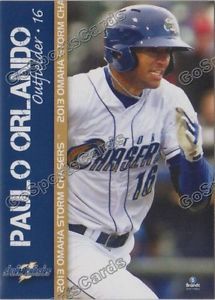 On April 9, 29-year-old MLB rookie Paulo Orlando started in left field and hit in the eight spot for the Kansas City Royals.  In the bottom of the third inning, facing Chicago southpaw John Danks, Orlando walked in his first-ever MLB plate appearance. One inning later, the right-handed hitter achieved his first-ever MLB at bat and lashed a triple to deep center.  It was his only hit in a one-for-three day (remember that number … three.) His triple, however, was a sign of things to come.
Orlando's next start came on April 12, in Los Angeles against the Angels and starting pitcher (another lefty) C.J. Wilson.   The 6' 2", 210-pound rookie was once again manning left field and hitting eighth. This time he collected two hits in five at bats (and scored three runs). His first hit of the day came leading off the top of the sixth.  Like his very-first (and until then only) MLB hit, it was a triple to deep center.  Sensing a pattern here?  Orlando picked up his second hit of the game in the eighth (off reliever Fernando Salas, a righty this time) and Orlando switched things up a bit, lacing the ball to left field for – you may have guessed it – a triple.   So, after two games in the major leagues, Orlando had three hits – all triples. He was the first player ever to log triples for his first three MLB hits.  Bet we won't be seeing that again.  But there is more to come.
On April 16, Orlando and the Royals found themselves in Minnesota, where Twins' pitchers held the rookie (playing left field and batting seventh) to a mundane infield single in four trips to the plate. The string of triples was over, but Orlando's penchant for three-baggers was not. The next day (yesterday), back in Kansas City facing the Oakland A's, Orlando was in right field, batting eighth. He collected one hit (one run and one RBI) in  four at bats – a triple to deep right center in the eighth off right-handed reliever Dan Otero. So, Orlando – after playing in four major league games – had five hits (.313 average), and four of them were triples.
Of course, the speedster's penchant for baseball's rarest hit – the triple – should not come as a surprise. In nine minor league seasons, Orlando hit a total of 63 three-baggers – topping ten triples three times, with a high of 14 in 2008. Over 1,017 minor league games, Orlando hit .275, rapped 63 home runs (the identical total as his triples) and stole 200 bases. Last season, at AAA Omaha, Orlando hit .301 with nine triples, six homers and 34 steals in 136 games.
I tweet baseball @DavidBBRT