To most of us, as soon as we started playing or watching baseball, we also started buying. collecting and trading baseball cards.   I fondly recall waiting for each year's newly released Bowman or Topps cards to make it to the dime store.  As kids, we searched through the packets for our favorite players, bemoaned how quickly we accumulated multiples of seldom-played utility infielders, negotiated trades with the fervor of Frank Lane and even invented games using the statitistics on the backs. (I also remember getting a sore jaw from chewing so much bubble gum, but can't deny enjoying the sweet scent that stayed on the cards and the sharp crack when you bit into a partiularly dry piece of gum).

With all of this in mind, Baeball Roundtable is pleased to share a guest post from Ross Uitts – founder of the web/blog site Old Sports Cards  (oldsportscards.com).  Uitts is a lifetime sports card collector who shares information and insight about collecting, buying, grading – and enjoying – cards from across the sports spectrum. Among his recent posts: 1952 Topps Baseball Cards: Key Facts, Values And Checklist;  The 60 Most Valuable Baseball Cards – The All Time Dream list; Eleven Stan Musial Baseball Cards You Need to Own; and The Best Sports Card Auctions.  You can visit Uitts' site by clicking here – and BBRT will be adding a permanent link to Old Sports Cards to the list on the right hand side of this page. 

So, here is Ross Uitts look at his ten favorite baseball cards.  Enjoy.
My Ten Favorite Baseball Cards
by Ross Uitts
For decades, baseball fans young and old have turned to baseball cards as a way to connect more with their favorite teams and players. In my case, growing up as a kid in the late 1980's, that meant I was chasing cards of Don Mattingly, Cal Ripken Jr. and Ken Griffey Jr. just to name a few. They may not have been the most expensive baseball cards, but that didn't matter to me.
Prior to the internet, card backs offered one of the best ways to keep up with my favorite players' statistics and development. And trading them amongst friends naturally became a great way to share our passion for the game.
I collected basketball and football cards, too, but I think I speak for most sports card collectors when I say that baseball cards were always the most desirable in general. Baseball is our country's national pastime after all. And trading cards were almost everywhere when baseball was at its peak in popularity from the early 1900's through the 1950's.
During that time period, tobacco and confectionery companies promoted their products by distributing them with cards of baseball's greatest icons like Ty Cobb, Babe Ruth and Mickey Mantle. And while there were dozens of baseball card issues from that era, there were very few football, basketball and hockey cards by comparison. That's probably one of the biggest reasons baseball cards are more popular: they just had a head start in production, creating a larger fan base along the way. Kind of the same reason Superman is more popular than Iron Man: he just had a head start.
Coming back to the 1980's, we saw collector demand for those old baseball cards became huge. Kids who collected in the 1920's to 1950's were bitten by the nostalgia bug and wanted cards they either lost or threw away back then. The 1952 Topps Mickey Mantle was one of the cards to lead the way. Prices rose and people famously started to even consider them as investments safer than stocks, real estate or bonds. That pushed their fame into the mainstream media and even into the minds of non-collectors. I think that's why even non-collectors can probably tell you what the Holy Grail of baseball cards is (the 1909-11 T206 Honus Wagner), but may not know the Holy Grail of basketball (the 1948 Bowman George Mikan) or football cards (the 1935 National Chicle Bronko Nagurski).
Having said all this, what would be my top ten favorite baseball cards of all time? After giving it some hard thought, I've narrowed it down to just ten … but it wasn't easy. If you asked me again in a week, the list may very well change a bit. But here is my list for now:
1955 Topps Sandy Koufax Rookie Card

The Dodgers have been and always will be my favorite team. And although it's hard for me to pick a favorite from among the many Dodger legends, Koufax has always narrowly beaten the others out for me. From 1961 to 1966, he turned in one of the most dominant six-year stretches that the game will likely ever see. His legend is forever cemented in baseball history, and as a Dodger pitcher, he holds the top spot for me.
1948 Leaf Jackie Robinson Rookie Card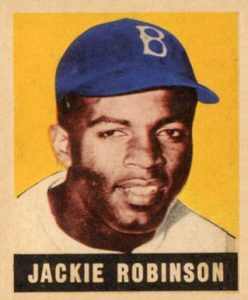 Robinson comes in at an extremely close second place on my list of Dodger favorites. His impact on the game of baseball and American history as the first to break the MLB color barrier cannot be overstated. His 1948 Leaf rookie card is a key to the set and is instantly recognizable. The set design is fairly basic by hobby standards, but the imagery and eye appeal of Jackie's card is pretty hard to beat.
1909-11 T206 White Border Honus Wagner

It's the Holy Grail of baseball cards, so I'd be crazy to leave this off the list. Some say Wagner demanded compensation from the American Tobacco Company for using his image. Others believe he merely didn't want his image associated with promoting tobacco to kids. Either way, his card was pulled from production, making it far more scarce than many other cards in the iconic set. So much so, that it's value has steadily climbed into the seven-figure range and anytime one surfaces for sale or auction, it usually ends up in the news. I can't imagine making a list without this card on it.
1952 Topps Mickey Mantle #311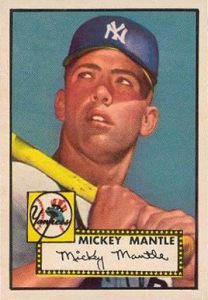 Here's another card that's likely on every collector's top ten favorites list. And for many, it actually sits on top ahead of the T206 Wagner. It's become highly debated as to whether the 1952 Topps Mantle is actually the face of the hobby. The story of the card and how it became so valuable is amazing. It's not his rookie card, that would be his 1951 Bowman issue. So that's not why it's valuable. It's valuable because it's the most iconic card in the most iconic post-War baseball card set. Furthermore, it's a "high-number" card, meaning it was part of the last run of cards, cards #311 to #407, to be printed during the summer of 1952. Kids were becoming more interested in football cards late that summer, so Topps shortened production of the high-number cards. And on top of all that, Topps famously dumped thousands of high-number cards into the ocean during the 1980's, resulting in even fewer copies in existence today.
1909-11 T206 Ty Cobb Tobacco (Ty Cobb Back)

I absolutely love this card and it's a prime example of how subtle nuances within the hobby can skyrocket the value of a baseball card. The T206 set is special for many reasons, but one of them is, without a doubt, the numerous brand advertisements on the backs – 16 different backs in total. Estimates place the number of front/back combinations around 5,500, which led to this set being nicknamed "The Monster." With approximately 22 or fewer known to exist, all in low grades, the "Ty Cobb back" is the rarest of them all. Even without the "Ty Cobb back," it's still an incredibly popular and valuable card. But having that distinct back puts it way over the top of any other Cobb card out there.
1933 Goudey #53 Babe Ruth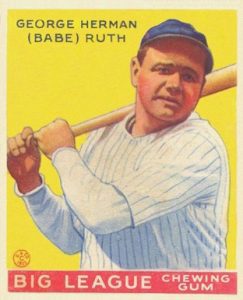 As I mentioned earlier, from the early 1900's through the 1920's, many tobacco and confectionery companies distributed their products with baseball cards as a way to boost sales. Baseball was the biggest sport in the country by far and Babe Ruth sat atop as the king of the game. Since he was the game's most popular player during that era, Ruth appeared on dozens of cards. But it's actually his 1933 Goudey #53 that was printed later on that's my personal favorite Ruth card. He appeared on three other cards in the set (#144, #149 and #181), but this is his most iconic. His 1916 M101-5/4 Sporting News rookie card would blow this one out of the water in terms of price. But, in my opinion, the eye appeal of this Ruth card is unmatched by any other.
1910 T210 Old Mill Joe Jackson

Joe Jackson's 1909-11 American Caramel E90-1 issue is his recognized rookie card and his most valuable overall, but I've always found this one to be his most interesting. The set itself is extremely rare and features hundreds of Minor League ball players. On this card, Jackson is shown as a member of the Cleveland Naps' minor league team, the New Orleans Pelicans. He dominated the minors and the Naps would call him up late in the 1910 season. The rest is history. Few collectors are ever able to see this card in person, making it one of the hobby's rarest of all.
1955 Topps #164 Roberto Clemente Rookie Card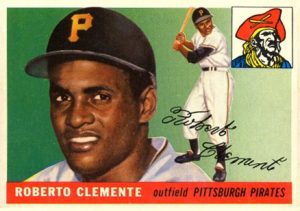 Clemente was an amazing player on the field and an amazing person off the field. Few players are able to exhibit the amount of character that he showed. His rookie card sits atop the Koufax and Killebrew rookies as the keys to the 1955 Topps set. And it's one of the most iconic cards of the 1950's in general. It's a must have for any Clemente fan or any serious vintage collector.
1951 Bowman #305 Willie Mays Rookie Card

Mays and Mantle both appeared in the 1951 Bowman and 1952 Topps sets. But unlike Mantle, Mays's 1951 Bowman rookie card is actually more valuable than his 1952 Topps issue. Mays was card #261 in the 1952 Topps set, which put him outside the "high-number" series cards (#311 to #407) and therefore his '52 Topps card isn't as scarce. Had his been a high-number card in the '52 Topps set, there's no doubt that card would be more expensive than his 1951 Bowman issue. Either way, his '51 Bowman rookie card is instantly recognizable and, in my opinion, features some of the best imagery of any vintage baseball card. Such a great depiction of one of the game's greatest — if not the greatest.
1948 Leaf #8 Satchel Paige Rookie Card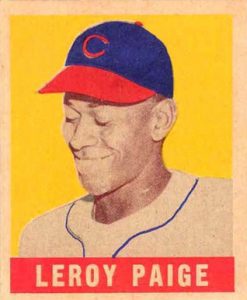 Few players are more interesting than Satchel Paige. Not only did he bring an amazing skill set to the game, he did it with showmanship and charisma. His 1948 Leaf #8 rookie was a single print, making it even more rare than others in the set. Add the fact that it can be incredibly difficult to find in higher grades (due to poor print quality and focus) and it becomes arguably the toughest post-War card to collect.
So there you have it, my ten favorite baseball cards. It was difficult having to leave cards like the 1954 Topps Hank Aaron, the 1925 Exhibits Lou Gehrig, and the 1939 Play Ball Ted Williams among others off the list. But I had to draw the line somewhere.
If I had to give someone advice on collecting old baseball cards, I think it would be in the same spirit as this list: decide on the cards you like and stick with them.
The number-one thing to remember is that you should always collect what you love. Take my list for example. There are cards out there worth more money than some of those I mention above.  But what most hobby veterans will tell you is that card values will always fluctuate. So if the value of your cards happens to decrease, would you rather hold cards you love or hate?
Don't chase money. Stick to Hall of Famers or your favorite team players and you'll enjoy the hobby as it was meant to be.
Baseball Roundtable thanks Ross Uitts and Old Sports Cards for this guest post. Whether you collect baseball cards or are just a fan who remembers them fondly, I suggest you visit oldsportscards.com. Lots of interesting information there. For example, in the "Eleven Stan Musial Baseball Cards You Need to Own" post, I learned that there are fewer Musial cards than those of some other stars of his era because, between 1954 and 1957, Stan the Man just "didn't want to sign (a contract) for cards."  

There also are post on topics like the Best Baseball Blogs for Every Team in the Big Leagues and the Best Cities for Baseball Collectors and Enthusiasts.  You'll also find "Buyers Guides" for the cards of players ranging from Babe Ruth to Satchel Paige  to Tony Gwynn – in which Uitts comments on what makes the cards so special AND what makes the players so special.  I'm sure you'll find some of your favorites.  (And, of course, there is info on trading cards from other sports – basektball, football, hockey – if you are so inclined.  
I tweet baseball @DavidBBRT
Follow/Like the Baseball Roundtable Facebook page, click here.  There are prizes!
Member: Society for American Baseball Research (SABR); The Baseball Reliquary; The Negro Leagues Baseball Museum; Baseball Bloggers Alliance.