Yesterday (September 19) was an historic day for MLB baseball. In the eighth inning of the Royals-Blue Jays game in Toronto, Kansas City left fielder Alex Gordon homered off Blue Jays' reliever Ryan Tepera.  It was Gordon's eighth long ball of the season.  It was also the 5,594th  home run of the 2017 MLB season, breaking the all-time, all-team season record of 5,693 set back in the 2000 (steroid-era) season. By the end of the day's action, the new record was up to 5,707 – and we still have plenty of games to go.  This August saw another home run record fall.  August's 1,119 home runs were the most of any month in MLB history – breaking the record of 1,101 set this June.  By the way, the August total represents 2.63 home runs per game (both teams), compared to the season average of 2.53 (through September 20).
Contributors to this onslaught of long balls include veterans like the Marlins' Giancarlo Stanton (with an MLB-leading 55 home runs, the first 50 round-tripper campaign since 2013) and Royals' Mike Moustakas (whose 36 home runs have already tied the Royals' franchise record for a season and are 14 more than his previous single-season high).  Rookies have also gotten into the show, with the Dodgers' 21-year-old newcomer Cody Bellinger having already tied the NL rookie season record of 38 home runs and Yankees' rookie (25-year-old) Aaron Judge standing at 44 home runs (five shy of Mark McGwire's AL and MLB rookie record of 49).
The Marlins' Giancarlo Stanton is holding up his end of the 2017 record-setting home run pace, not only leading all of MLB with 55 home runs, but also having the season's best at bat-to-home run ratio at 10.0.  Also in the top five in fewest at bats per home run are: the Rangers' Joey Gallo (10.9); Yankees' Aaron Judge (11.6); Dodgers' Cody Bellinger (11.7); and Rays' Logan Morrison (13.3).
Then there are the Reds' Scooter Gennett and Diamondbacks' J.D. Martinez, who each blasted a record-tying four home runs in a single game – making 2017 only the second MLB season to see two four-dinger games (the Mariners' Mike Cameron and Dodgers' Shawn Green in 2002). There have been only 18 four-homer games in MLB history.
As of today, MLB has 110 players with at least 20 home runs on the season (58 in the AL/52 in the NL) – one short of last season's MLB record.  Of the 110, 29 have at least 30 HRs and three have forty or more (J.D. Martinez 40, Aaron Judge 44, Giancarlo Stanton 55).
And, not every one of 2017's record-setting long balls cleared the fences. There have been 18 inside-the-park home runs this year – including eight in the month of August alone (the most in any month in forty years.)
So, why this power surge?  Some speculate that the ball is juiced. However, MLB says says the baseballs have been tested and are within specifications.  There are, of course, other possible contributing factors.  Pitchers are throwing harder than ever and batters appear to be swinging harder (and freer) than ever.  Together, these factors are certainly contributing to the increase in long balls.  (Not saying they are the only factors, but the trend toward toward a hard-throwing/free-swinging game seems to be playing a role.)
TROTTING AROUND THE BASES OR WALKING BACK TO THE DUGOUT – IT'S A TREND
Take a look at the charts below, plotting average home runs (both teams) and strikeouts (both teams) over the years. It appears the game is more and more about either trotting around the bases or walking back to the dugout.  First, home runs (average per game, both teams combined):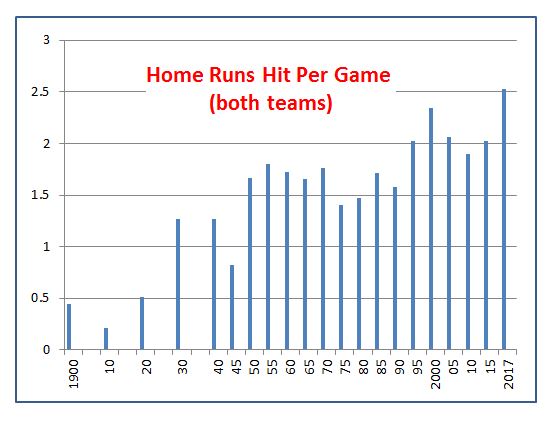 Now, average strikeouts per game (both teams combined).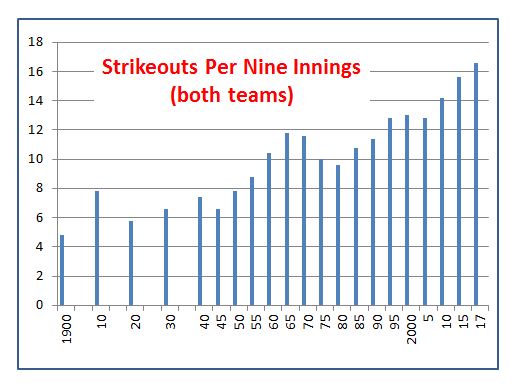 A few K-related observations:
 As of September 20, 2017, seven MLB players have struck out 170 or more times.  In 2000, only two players struck out 170 or more times; in 1990 and 1980, one player reached that total in each season; there were A total of three seasons of 170 or more strikeouts in the entire decade of the 1960's.
There have been nine seasons of 200 or more whiffs by a batter – all since 2008.
In 2009, Mark Reynolds led MLB with 223 strikeouts; in 1957 and 1958, Jim Lemon  led the AL with a total of 214 strikeouts (94 in 1957, 120 in 1958).
Babe Ruth never fanned more than 93 times in a season, but led his league in strikeouts five times.
Primary Sources:  ESPN.com; MLB.com; Baseball-Reference.com
TAKE THE BASEBALL ROUNDTABLE FAN SURVEY, HERE.
I tweet baseball @DavidBBRT
Follow/Like the Baseball Roundtable Facebook page here.  
Member:  Society for American Baseball Research (SABR); The Baseball Reliquary; The Negro Leagues Baseball Museum; Baseball Bloggers Alliance.