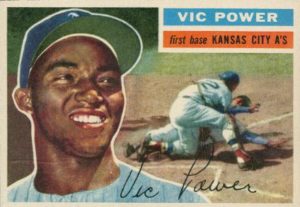 On this Date (August 14) in 1958, Vic Power became just the eleventh player in MLB history to steal home twice in one game – a feat that has not been accomplished since.  Amazingly, those two steals represented 67 percent of his total for the season.  But, I'm getting ahead of myself.  Here's the story.
In a game against the Tigers (in Cleveland), Detroit on top of the Tribe 7-4 going into the bottom of the eighth inning – but the Indians fought back. Cleveland RF Rocky Colavito started the inning with his second home run of the game (his 26th of the season). Then pinch-hitter Gary Geiger (hitting for SS Woodie Held) walked. Next up was another pinch hitter – Vic Wertz – for pitcher Morrie Martin. Wertz tied the contest with a two-run long ball.
After a Detroit pitching chang e- Bill Fischer in for Tom Morgan – Indians' 2B Bobby Avila reached on an error by Tigers' 1B Gail Harris. Cleveland 1B Mickey Vernon sacrificed Avila to second and Power singled him home – moving to second on an error by Detroit catcher Charlie Lau.  And, the pesky Power was just warming up. He went to third on a wild pitch by Fischer and then stole home (after a short fly out to center by catcher Russ Nixon) to run the lead to 9-7. LF Minnie Minoso was up next and was hit by a pitch and stole second before CF Larry Doby flied out to end the inning.  The Tribe bullpen, however, could not hold the two-run lead – and the Tigers tied it in the top of the ninth. That opened the door for Power's historic second steal of home – which came in the bottom of the tenth, with the bases loaded, two outs and one of the AL's most dependable RBI men (Rocky Colavito, with 74 driven in  on the season) at the plate.
Here's how that tenth went. Vernon grounded out. Then, Power singled to right (his third hit of the day, raising his average to .319).  Nixon followed with another single, Power moving to second.  Minoso grounded to short, with Power moving on to third, Nixon forced at second and Minoso reaching first on the fielder's choice.  Larry Doby was intentionally walked, loading the bases and bringing Colavito to the dish. On the fourth pitch to the Indians' slugger, Power – who had been scampering up and down the third base line – broke for the plate and ended the game on a "run off" steal of home.
Power, by the way, was not a likely candidate to swipe home twice in a game.  Going into that August 14 tilt, he had exactly one stolen base on the season – and he did not steal a single a bag (after the two steals of home) that campaign. The fact is, he was much more likely to beat you with his glove (seven Gold Gloves) or his bat (.284 career average) than his legs. In twelve MLB seasons, Power stole just 45 bases (and was caught 35 times).  He was a four-time All Star, who collected 1,716 hits, scored 765 runs and drove in 658. Note:  I was lucky enough to see the flamboyant Power often during his two seasons with the Minnesota Twins (1962-63), when he hit .280, with 26 home runs and 115 RBI – and impressed with his smooth and flashy fielding (sweeping one-handed grabs) and the unique pendulum-like way he swung that bat (one-handed) as he waited for the pitcher to deliver.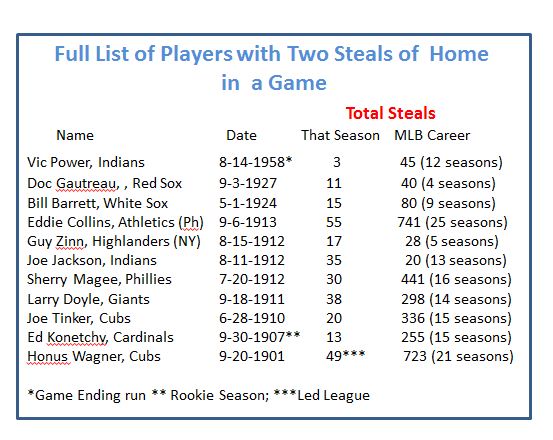 Stealing Home Tid Bits:
Ty Cobb stole home an MLB-record 54 times.
Ty Cobb holds the MLB and AL record with eight steals of home in a season (Tigers, 1912); Pete Reiser holds the NL record at seven (Dodgers, 1946).
There have been 35 "run-off" (game-ending) steals of home; the most recent by Marquis Grissom (Indians) to end Game Three of the American League Championship Series (October 11, 1997).
An oddity: Both Lou Gehrig and Babe Ruth notched double digit steals of home in their MLB careers (15 and 10, respectively). Rickey Henderson, Lou Brock and Maury Wills did not.
I tweet baseball @DavidBBRT
Follow/Like the Baseball Roundtable Facebook page, here.  (Baseball commentary, notification of new blot posts and prizes.
Member: Society for American Baseball Research (SABR); The Baseball Reliquary; The Negro Leagues Baseball Museum; Baseball Bloggers Alliance.