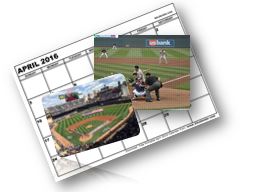 Well, April is behind us and – if you are from Minnesota, you are banking on the old "April showers bring May flowers" adage, because it's been plenty wet here.  April not only brought showers to Minnesota, but also plenty of action to major league baseball – from the Dodgers opening the season with three straight shutouts to a no-hitter by the Cubs' Jake Arietta (his second) to Rockies' rookie Trevor Story's ten April home runs (tying the MLB rookie record) to A.J. Pierzynski becoming just the ninth catcher to reach 2,000 hits.  It was an eventful month – and it's time for BBRT's traditional look at the past month of the MLB season. I hope you enjoy this look back at April – and come across a highlight or two you may have missed.  (Note:  April is always the easiest month to "wrap," since monthly and year-to-date leaders are the same.) Before we get into detailed highlights and statistics, here are a few quick observations.
First a few quick observations:
MLB had only one qualifying .400 hitter through April 30 – the Cardinals' 25-year-old rookie SS Aledmys Diaz at .423. (with four home runs and 13 RBI).
The NL West finished April with zero – yes, zero – teams playing .500 ball. The Dodgers, Giants and Rockies share the Division lead – all with losing records (one game under.500).
Two players were tied for the MLB lead in home runs at 10 – and they both played for the Rockies: 3B Nolan Arenado (Last season's NL home run leader) and 23-year-old rookie SS Trevor Story. For those who track such things, the most HR's ever hit in April is 14 – a record shared by Albert Pujols (Cardinals 2006) and Alex Rodriguez (Yankees, 2007). The most home runs in any month goes to Sammy Sosa, who hit 20 for the Cubs in June of 1998.
The Cubs' Jake Arietta tied for the MLB lead in wins this April (5-0, 1.00 ERA) – and threw the season's first no-hitter.
Jordan Zimmermann moved smoothly from the NL (Nationals) to the AL (Tigers), putting up MLB's lowest ERA for the month (among qualifiers), going 5-0, with a 0.55 ERA. The Cubs' Jason Hammel was the only other pitcher to finish the month with an ERA under 1.00 (3-0, 0.75).
Despite the presence of the DH in the AL, the top three scoring teams (and six of the top seven) in April were from the NL.
Cubs' pitchers held batters to a .199 average, while the opposition hit over .300 (.301) against the Brewers' staff.
Twenty-three individual players out-homered the Braves, who had just five long balls for the month.
In the "How the Game has Changed" department, April saw only seven complete games in MLB – and no team had more than one.
We saw two triple plays: one of the traditional third-to second-to first (5-4-3) variety and another which started in right field and ended up involving the first baseman, catcher, shortstop and third baseman. (More on that later).
As noted earlier, we saw one April no-hitter – and we also witnessed 17 Grand Slams.
A FEW HIGHLIGHTS – BEFORE THE STATISTICS
A Two-Edged Sword.
The Dodgers and Padres tied and broke a couple records in their opening series.  The Dodgers tied a record by opening a season with three straight shutouts, while the Padres set a record by failing to score in their first three games of the season.
On Opening Day (April 4) in San Diego, the Dodgers (behind Clayton Kershaw and two relievers) trounced the Padres 15-0, in the worst opening day shutout lost in MLB history.
The April 5 game, started by Dodger Scott Kazmir, was more competitive, as LA sTopped San Diego 3-0. Kazmir and a trio of relievers gave up just two hits, no walks and recorded 11 strikeouts.
Then, on April 6, LA'S Kenta Maeda and three relievers topped the Padres 7-0.
The only other team to open a season with three shutouts was the 1963 Cardinals (April 9, 10 and 13) – whose three-game opening shutouts stretch included two games on the road against the Mets (7-0, 4-0) and the home opener against the Phillies (7-0). Another illustration of "How the Game Has Changed" – The Cardinals string of three shutouts to open the season included three complete games (a two-hitter by Ernie Broglio; a four-hitter by Ray Washburn; and a 5-hitter by Curt Simmons).
Chicago – the WIN-dy City.
No teams won more games this April than the Cubs (17-5) and White Sox (17-8) – and so Chicago stands atop both the AL and NL Central Divisions. (The Cubs were the only team with a .700+ winning percentage at .773.) The White Sox did it with pitching.  At the end of April, they ranked seventh in the AL in runs scored, but had given up the fewest run in the junior circuit (76 runs allowed, tied with the Mariners) and had the AL's lowest ERA at 2.72 ERA. Over in the NL, the young Cubs did it all – posting the NL's second-lowest ERA (2.39) and second-most runs scored (136).
Leading the way on the mound for the White Sox?  Pretty much everyone.  The ChiSox closed April with nine pitchers (three starters) with ERA's under 2.00. Particular Kudos to starters Chris Sale (5-0, 1.66), Mat Latos ( 4-0, 1.84) and Jose Quintana (3-1, 1.47), as well as closer Dave Robertson (eight saves in nine opportunities and a 0.87 ERA).
The Cubs had things going on the mound and in the batter's box. CF Derek Fowler surprised with a .347-3-15 line; 1B Anthony Rizzo may have hit only .218, but he chipped in eight home runs and 24 RBI; and 3B Kris Bryant went .289-4-15.  On the mound, as expected (on even better), Jake Arietta went 5-0, 1.00 – and he was joined by starters Jon Lester (2-1, 1.83) and Jason Hammel (3-0, 0.75) with ERA's under 2.00. The Cubs' starters were so good, closer Hector Rondon got only four saves opportunities, but he converted them all without giving up an earned run.
Windy City World Series anyone?
Braves Powerless to Turn Things Around?
The worst record in MLB through April? That belonged to the Atlanta Braves (5-18, .217 – already 11 games out.)  The Braves were last in the NL in runs scored (75 – only the Yankees scored few April runs at 74); second-to-last in the NL in average (.229); and dead last in MLB in home runs. The Braves closed April with just five home runs. The second-lowest home run total belonged to the Dodgers with 17; and the home run leaders were the Diamondbacks and Rockies with 37 each. On the mound, the Braves were one of only four teams with an ERA over 5.00 (at 5.05). Other teams in that unenviable position were the Brewers (5.64); Rockies (5.50); and Reds (5.42).
Over in the AL, the worst record belonged to the Twins and Astros (7-17, .292). The Twins were 11th in the AL in runs scored (80), while the Astros were ninth (90). The Astros, however, gave up the most April runs in the AL (123) and had the league's highest ERA at 4.97. The Twins weren't far behind (ahead?), giving up the AL's second-most runs at 110, with the fifth-highest ERA at 3.97.
9-3-2-6-2-5 … Not it's not a phone number.
On April 22, the White Sox turned a unique triple play against the Rangers. It came in the seventh inning and all started after the Rangers (trailing 5-0) loaded the bases with no outs. Texas' 1B Mitch Moreland hit a liner into the corner that was caught by White Sox RF Adam Eaton.  Rangers' LF Ian Desmond (the runner on first) had ventured too far off the bag, then overran the base coming back and was tagged out (in foul territory) by 1B Jose Abreu. Abreu, wanting to ensure no run scored, fired the ball to C Dioner Navarro, who saw that Rangers' 3B Adrian Beltre (the runner at second) had decided to advance to third base on the play at first. There was one small (well, not so small) problem, DH Prince Fielder (the runner at third) was solidly anchored there.  Seeing Beltre hung up, Navarro threw to shortstop Tyler Saladino and Fielder decided to try to score on the expected rundown. Saladino threw back to Navarro, who threw to 3B Todd Frazier (who tagged Fielder) to complete MLB's first-ever 9-3-2-6-2-5 triple play,
One Hit – One Win.
The Rangers managed to win their April 4 Opener (in Texas) by a score of 3-2 over Seattle – despite collecting only one hit.  All three Texas tallies came in the fifth inning off Mariners' starter Felix Hernandez. 2B Rougned Odor led off with a walk; SS Elvis Andrus reached on an error by Seattle 3B Kyle Seager; C Robinson Chirinos sacrificed the runners to second and third; CF Delino DeShields drew a walk, loading the bases; RF Shin-Soo Choo walked, forcing in a run; DH Prince Fielder blooped a single (the Rangers only hit of the day) that fell between the left fielder and shortstop, scoring Andrus; 3B Adrian Beltre was safe on a error by SS Ketel Marte, scoring Deshields; finally, 1B Mitch Moreland and LF Ian Desmond went down swinging to end the brutal half-inning. Seattle outhit the Rangers 4-1 and punched two home runs, but still lost the contest.
Still teams, have won with fewer hits.  See the  box at the end of this post for a look at teams that have managed a victory without the benefit of a single base hit.
Your April Division Leaders
AL Central:  White Sox (17-8), followed by the Tigers, three games back.
AL East:  Orioles (14-9), just ½ game up on the Red Sox.
AL West: Rangers (14-10) in first, with just a ½ game lead on the Mariners.
NL East: A good race brewing with the Nationals (16-7), just a 1/2 up on the Mets.
NL Central:  Cubs (17-5), three games ahead of the second- place Pirates.
NL West: The Dodgers, Giants and Rockies tied for the lead – all one game under .500 – and the Diamondbacks just ½ game back.
If the season ended April 30, your post-season teams:
AL- Orioles, White Sox, Rangers. Wild Cards: Red Sox, with the Tigers and Mariners tied for the final spot.
NL – Nationals, Cubs, with the Dodgers, Giants and D-backs tied for the West title. Wild Cards: Mets, Pirates.
Full Standings can be found at the end of this post.
__________________________________________________________________
BEST AND WORST TEAM STATS FOR APRIL
BEST TEAM OFFENSIVE STATS
Batting average: Pirates (.293); Red Sox (.281).
Home Runs: D-backs and Rockies (37); Orioles and Cardinals (34).
Runs: Cardinals (142); Cubs (136); Pirates (128); Red Sox and Rockies (126).
SB: Red Sox (21); Indians (19); D-backs, Astros and Royals (18).
Walks Drawn: Cubs (121); Pirates (105); Giants (102); Note: AL Leader – Blue Jays (90).
Fewest Strikeouts: Angels (123); Giants (155).
WORST TEAM OFFENSIVE STATS
Batting Average: Brewers (.223); Rays (.225); Mariners (.227); Braves (.229).
Fewest HR's: Braves (5); Dodgers (17); Red Sox, Reds and Padres (19).
Fewest Runs: Yankees (74( Braves (75); Rays (76); Royals (77).
Fewest SB's: Angels (4); Orioles (4); Mets (5).
Fewest Walks Drawn: Reds (56); Rays and Royals (60).
Most Strikeouts: Astros (238); Blue Jays (232); Padres (230).
BEST TEAM PITCHING STATS
ERA: Nationals (2.36); Cubs (2.39); White Sox (2.72).
Strikeouts: Phillies (245); Red Sox (236)..
Fewest Walks: Yankees (51); Rays and Cubs (54)..
Batting Average Against: Cubs (.199); Nationals (.214); Mariners and Rays (.223).
WORST TEAM PITCHING STATS
ERA: Brewers (5.64); Rockies (5.50); Reds (5.42); Braves (5.05). Worrt in AL: Astros (4.97).
Fewest Strikeouts: Rangers (157); Brewers (158).
Most Walks: Reds (110); Pirates (104); Brewers (103); D-backs (101). Worst in AL: Royals (95).
Batting Average Against: Brewers (.301); Astros (.284).
______________________________________________________
Now let's take a look at individual performances in April.
When looking for a Player and Pitcher of the Month in each league,  BBRT found the choice relatively easy when looking at the mound, less so when considering accomplishments in the batter's box.
BBRT AL Pitcher of the Month: Jordan Zimmermann, Tigers. Made the transition to the American League look easy, going 5-0, with MLB's lowest April ERA (0.55). Gave up just two earned runs in 33 innings.

BBRT NL Pitcher of the Month: Jake Arietta, Cubs. Won all five starts; averaged just over seven innings per outing; recorded a 1.00 ERA; tossed 2016's first no-hitter.

BBRT AL Position Player of the Month:Josh Donaldson, Blue Jays.  Hit .292, with eight home runs (tied for AL lead) and 20 RBI (second in AL).

BBRT NL Position Player of the Month: Bryce Harper, Nationals: Put up a .286 average with nine homers (third in NL) and 24 RBI (tied for tops in MLB).  Added five stolen bases (fourth in NL) and drew 17 walks (versus just 13 strikeouts).
A FEW INDIVIDUAL HIGHLIGHTS THAT CAUGHT BBRT'S EYE IN APRIL
Home Cooking.
On April 15, Astros' starter Dallas Keuchel went eight scoreless innings in beating the Tigers 1-0.  It was Keuchel's 17th consecutive home victory (20 starts, three no-decisions).  In this continuing home streak, Keuchel's home ERA is 1.36 (145 1/3 innings).
On April 28, with two outs in the fifth inning of the Cubs' 7-2 Wrigley Field win over the Brewers, Jake Arrieta gave up a run-scoring double to Alex Presley. Why is that significant? It was the first run Arietta had given up at Wrigley Field since the sixth inning of a 3-1 win over the White Sox on July 12, 2015.   That gave Arietta a streak of 52 2/3 scoreless innings at home – longest-ever home scoreless streak in the NL and second only to White Sox' Ray Herbert's 54-inning home scoreless streak in 1962-63.
Double Your Pleasure. Double Your Fun.
On April 15, as the orioles topped the Rangers 11-5 in Texas, Mark Trumbo collected two home runs and five RBI – in the seventh inning.  Trumbo became one of 58 players in MLB history to collect two round trippers in an inning.  A more elite group – those  who have accomplished the feat twice  – includes The Giants' Willie McCovey (1973 & 1977); Cubs' Andre Dawson (1978 & 1985); Pirates' Jeff King (1995 & 1996); and Yankees' Alex Rodriguez (2007 & 2009).
Off to a Good Start.
On April 4, Rockies' rookie SS Trevor Story let his bat tell the story – becoming the first rookie to hit two home runs, while making his MLB debut on Opening Day – as the Rockies topped the Diamondbacks 10-5 in Arizona. Story ended his MLB debut two-for-six, with two runs scored and four RBI.  And, the rookie just kept hitting.  As April closed, Story had become:
just the second rookie to hit 10 HR's in April (Jose Abreu, White Sox, 2014);
the first player whose first four MLB hits were home runs;
the first player to homer in his first four MLB games;
the first player to hit seven HR's in his team's first six games of a season (and the first rookie to hit seven homers in his first six games).
Story also tied an MLB mark by homering (the fifth player to do so) in the first four games of a season; and tied the mark for the fewest games ever to reach 10 career home runs (21, George Scott, Red Sox, 1966).
Arietta – a Smashing No-Hitter.
On April 21st, the Cubs' Jake Arietta threw 2016's first no-hitter, as Chicago topped the Reds 16-0 in Cincinnati.  There was plenty to distinguish the no-no. For example, the 16-0 win was the second-worst drubbing ever in a no-hitter – trailing only the August 4, 1884 Pud Galvin no-hitter – when his NL Buffalo Bisons topped the Detroit Wolverines 18-0. (In a "How the Game has Changed" moment, future Hall of Famer Galvin's record that year was 46-22, with a 1.99 ERA, 636 1/3 innings pitched,  71 complete games in 72 starts and 12 CG shutouts.)
Arietta's no-hitter also made him the 29th pitcher to throw multiple no-hit games (he threw one on August 30th last season.)
What caught BBRT's eye, however, was the fact that Arietta also collected two hits and a walk (five plate appearances) in the game. Arietta had a single in the second inning, a single in the fourth, a swinging strikeout in the sixth, a walk in the seventh and a ground out in the ninth.  Just another reason I am not fond of the DH. (In fact, the pitcher has collected a hit in each of the last eight no-hitters thrown under NL rules.)
A Grand Way to get to the Century Mark.
On April 14, last year's NL MVP Bryce Harper hit his 100th MLB home run – a third-inning Grand Slam off the Braves' Julio Teheran, as Bryce's Nationals topped Atlanta 6-2 (in Atlanta).  In the process, Harper became the eighth youngest player to reach 100 home runs. (BBRT reports this so that I can mention my all-time favorite player – Eddie Mathews.) Here are the ten youngest players to reach 100 HR's:
Mel Ott (22 years, 132 days), 1931 Giants
Tony Conigliaro (22 years, 197 days), 1967 Red Sox
Eddie Mathews (22 years, 293 days), 1954 Braves
Alex Rodriguez (23 years, 16 days), 1998 Mariners
Andruw Jones (23 years, 62 days), 2000 Braves
Miguel Cabrera (23 years, 127 days), 2006 Marlins
Johnny Bench (23 years, 161 days), 1971 Reds
Bryce Harper (23 years, 181 days), 2016 Nationals
Albert Pujols (23 years, 185 days), 2003 Cardinals
Hank Aaron (23 years, 191 days), 1957 Braves
A New Name for the Leaderboard.
On April 27, as the Braves lost to the Red Sox 9-4 (at Fenway), Braves' catcher A.J. Pierzynski made history. In the second inning, Pierzynski (in his 19th MLB season) lined a single to left (off Steven Wright) for his 2,000th MLB hit.  The safety made the 39-year-old Pierzynski one of just nine catchers to achieve 2,000 hits. While Ivan Rodriguez leads the group with 2,844 hits (out of A.J.'s reach), such backstops as Johnny Bench (2,048) and Gary Carter (2,092) seem within reach – and, perhaps, even Mike Piazza (2, 127) and Yogi Berra (2,150) could be considered future targets. Pretty heady company, I'd say.
INDIVIDUAL STATS LEADERS THROUGH APRIL
Batting Average: Aledmys Diaz, Cardinals (.423); Martin Prado, Marlins (.397); Daniel Murphy Nationals (.370).  AL Leader:  Nick Costellanos (.363).
Home Runs: Nolan Arenado, Rockies (10); Trevor Story, Rockies (10); Bryce Harper, Nationals (9); Neil Walker, Mets (9).  AL Leaders: Josh Donaldson, Blue Jays (8); Robinson Cano, Mariners (8).
Base Hits: Jean Segura, D-backs (37 with a .333 average); Manny Machado, Orioles (33, with a .344 average).
RBI: Robinson Cano, Mariners (24); Bryce Harper, Nationals (24); Anthony Rizzo, Cubs (24). .
Stolen Bases: Jose Altuve, Astros (9); Starling Marte, Pirates (7). Billy Burns, A's (7); Rajai Davis, Indians (7).
On the negative side of the coin, the Tigers Justin Upton led all hitters with 38 April strikeouts (in 95 at bats), while carrying a .221 average with two home runs and eight RBI.
ERA (among qualifiers): Jordan Zimmerman, Tigers (0.55); Jason Hammel, Cubs (0.75).
Wins: Jordan Zimmermann, Tigers (5-0, 0.55); Jake Arietta, Cubs (5-0, 1.00); Chris Sale, White Sox (5-0, 1.66); Rick Porcello, Red Sox (5-0, 2.76).
Saves: Kenley Jansen, Dodgers (9); David Robertson, White Sox (8); Jeurys Familia, Mets (8); Jeanmar Gomez, Phillies (8); Ryan Madson, A's (8); Jonathan Papelbon, Nationals (8); Sean Tolleson, Rangers (8).
Strikeouts: David Price, Red Sox (46); Chris Archer, Rays (43); Drew Smyly, Rays (41); Clayton Kershaw, Dodgers (40); Jose Fernandez, Marlins (40); Stephen Strasburg Nationals (40). Note: David Price led in strikeouts per nine innings (13.96), followed by the Mets' Noah Syndergaard at 12.83.
Batting Average Against: Danny Salazar, Indians (.139); Jake Arietta, Cubs (.151); Drew Smyly, Rays (.151).
On the negative side: Among pitchers with at least four April starts, the Reds Alfredo Simon had the highest April ERA at 13.50 – (20 earned runs in 13 1/3 innings).
Now, a bonus bit of trivia.
Teams Earning A Victory Without the Benefit of a Base Hit

In MLB history, five teams have managed victory without the benefit of a base hit. Twice these winnings teams were victims (or victors) of an officially recognized MLB no-hitter.  In the other three, since the home team didn't bat in the bottom of the ninth, the games are not recognized as no-hitters (MLB rules require a pitcher – or pitchers – throw at least nine innings to be credited with a no hitter.) Here are the teams that earned a win without a hit.

First, the official no-hitters – in both cases, the winning run scored in the top of the ninth.

On April 23, 1964, the Houston Colt .45's Ken Johnson pitched nine innings of no-hit ball against the Reds – and lost 1-0. The winning run scored in the top of the ninth in an inning that went: ground out by Reds' P Joe Nuxhall; 2B Pete Rose reaching (and going to second) on an error by Johnson, then advancing to third on a ground out by 3B Chico Ruiz; Rose scoring as Vada Pinson is safe on an error by 2B Nellie Fox. Johnson's mound opponent (Nuxhall) pitched a complete game, five-hit shutout.

On April 30, 1967, the Orioles' Steve Barber (8 2/3 innings) and Stu Miller (1/3 inning) combined to no-hit the Tigers in a 2-1 loss. The Orioles had just two hits in the game and actually scored first in the bottom of the eighth – in an inning in which they did not collect a hit. Detroit starter Earl Wilson was still in the game, having thrown seven innings of two-hit ball, when Orioles' LF Curt Belfry led off with a walk and was sacrificed to second by 2B Woody Held; an intentional walk to PH Charlie Lau and a non-intentional pass to pitcher Steve Barber followed, before SS Luis Aparicio brought Blefary home with a sacrifice fly. End of eight, Orioles up 1-0, Barber three outs from a no-hit victory.  Then came the fateful top of the ninth. Barber walked 1B Norm Cash and weak-hitting SS Ray Oyler to open the inning; the pair were  bunted  to second and third by Tiger P Earl Wilson; pinch-hitter Willie Horton popped out (leaving Barber now just one out from a complete game, no-hitter victory).  With CF Mickey Stanley at the plate, Barber uncorked a wild pitch, with Dick Tracewski (running for Cash) scoring the tying run.  After Barber walked Stanley, Stu Milleer was brought in and a second run scored on a fielder's choice..The Orioles went down in order in the bottom of the inning – and lost to the Tigers 2-1, despite a combined official no-hitter.

.

Now the games not officially recognized as no-hitters, but in which the winning team did not collect a single safety.

July 1, 1990, the White Sox topped the Yankees (in Chicago, of course) 4-0, without collecting a single hit. All four runs scored in the bottom of the eighth – which began with Yankee starter Andy Hawkins getting the first two hitters on pop-up, putting him just four out away from a no-hit victory (provided the Yankees could score).  Then the wheels came off.  White Sox RF Sammy Sosa reached on an error by 3B Mike Bowers, and promptly stole second; SS Ozzie Guillen and CF Lance Johnson walked (loading the bases). Then, Robin Ventura was safe on a bases-clearing error by Yankee LF Jim Leyritz. The final run came  in on another error – with DH Ivan Calderon benefiting from the Yankees' third error of the inning (this one by RF Jesse Barfield). Hawkins went eight hitless innings, giving up four unearned runs, while three White Sox hurlers combined for a four-hit shutout. Since the White Sox did not have to bat in the bottom of the ninth, Hawkins not only lost the game, but was denied an "official" nine-inning no-hitter.

On April 12, 1992, the Indians managed to beat the Reds Sox (in Cleveland) despite being outhit by Boston nine-to-zero. The Indians scored in the bottom of the first, as CF Kenny Lofton led off with a walk and stole second and third while DH Glenallen Hill was striking out. Lofton then scored on a throwing error by Red Sox SS Luis Rivera (on a ground ball by Indians' 2B Carlos Baerga). The Tribe added a second run in the bottom of the third as SS Mark Lewis and Lofton led off with walks. Then, on a ground ball to shortstop, Lewis went to third, Lofton was forced at second and Hill was safe at first. Lewis went on to score on a fielder's choice.  Boston scored their only run in on a two-out single by Rivera (after a single and walk). Matt Young pitched eight hitless innings for Boston, but was hurt by seven walks and, of course, that Rivera error. Three Cleveland pitchers gave up nine hits and six walks, but managed to hold the Red Sox to one  run.

On June 28, 2008, the Dodgers (at home) snuck by the Angels 1-0,without notching a single base hit. As usual, errors played the role in a hitless victory. Dodger s' CF Matt Kemp led off the fifth inning and was safe on an error by Angels' pitcher Jered Weaver. Kemp then stole second and advanced to third on a throwing error by catcher Mike Napoli. He then scored on a sacrifice by 3B Blake Dewitt.  And that was the scoring for the day. The Angels' Jered Weaver (six innings) and Jose Arredondo (two innings) pitched eight innings of no-hit ball (one unearned run), while three Dodgers' pitchers combined for a five-hit shutout.
______________________________________________________________
APRIL 30, 2016 (end of day) STANDINGS
AL EAST
Orioles             14-9     .609     …
Red Sox           14-10    .583     0.5
Rays                10-12   .478     3.0
Blue Jays         11-14   .440     4.0
Yankees            8-14    .364     5.5
AL CENTRAL
White Sox       17-8     .680     …
Tigers             13-10     .565     3.0
Royals            12-11     .522     4.0
Indians             10-11   .476     5.0
Twins                7-17   .292     9.5
AL WEST
Rangers           14-10   .583     …
Mariners          13-10   .524     0.5
A's                   13-12   .520     1.5
Angels             11-13   .458     3.0
Astros               7-17   .292     7.0
NL EAST
Nationals         16-7     .696     …
Mets               15-7     .682     0.5
Phillies            14-10   .583     2.5
Marlins             12-11  .522      5.0
Braves             5-18   .217     10.5
NL CENTRAL          
Cubs                17-5     .773     …
Pirates             15-9     .625     3.0
Cardinals          12-12    .500     6.0
Reds                 9-15    .375     9.0
Brewers            8 -15    .348     9.5
NL WEST
Dodgers         12-13   .480     …
Giants            12-13   .480     …
Rockies          11-12   .478     …
D-backs          12-14   .462     0.5
Padres             9-15    .375     2.5
I tweet baseball @DavidBBRT
Member: Society for American Baseball Research (SABR); The Baseball Reliquary; Baseball Bloggers Alliance.