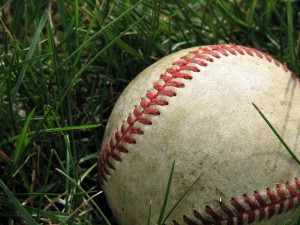 When Ed "Babe" Linke took the mound for the Washington Senators on this day (July 26) in 1935, he had no idea he was soon to start a unique double play – with his head.  In the bottom of the second, with one out, Yankee lead-off hitter and left fielder Jesse Hill smashed a line drive off Linke's forehead.  The ball hit the right-handed hurler with such force it ricocheted back to Senators' catcher Jack Redmond, who caught it on the fly and fired to Senators' shortstop Red Kress, catching a surprised Ben Chapman (Yankee center fielder) off the bag for a 1-2-6 double play – completed as Linke lay semi-conscious on the mound.  Linke was carried off the field on a stretcher and spent two days in the hospital before returning to the Senators – to begin the most successful pitching streak of his six-year MLB career.
At the time of the beaning – including that game – Linke's record on the season was 3-6, with a 7.52 ERA. (He would complete his MLB career at 22-22, 5.61.) However, for the remainder of 1935, after being felled by the Hill liner, Linke went 8-1, 3.03 in 11 starts and three relief appearances.  During that time, he also threw seven of his 13 career complete games – including a ten-inning, two-run (one earned) performance against the Indians on August 18 and a twelve-inning, three-run (two earned) outing against the Tigers on September 11.
The 23-year-old Linke finished up the season 11-7, 5.01. (The following year he would go 1-5, 7.10; and would be out of the major leagues by age 27.) The knock on the noggin' didn't seem to hurt Linke's batting eye either, Hitting .259 at the time of the injury, Linke finished the season at .294, with one home run and nine RBI.  Clearly, Linke got a head start on his best season on this date 79 years ago.
I tweet baseball @DavidBBRT